Apple to kill Ping social music sharing service on Sept. 30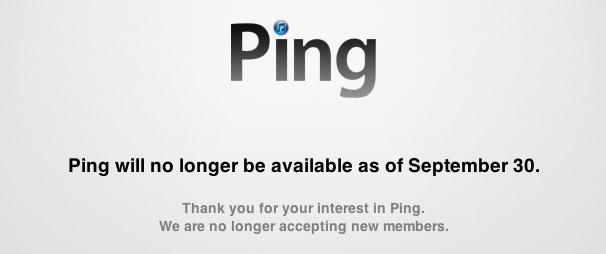 Apple on Wednesday quietly announced it is no longer accepting new members to its Ping service and will kill the project altogether on Sept. 30.
The message appeared in the Ping section of iTunes following Apple's announcement of the iPhone 5, new iPod models and the launch of iTunes 7. For those iTunes users who are currently Ping members, the music sharing service will be available until the September close date.
Apple CEO Tim Cook first hinted Ping might be getting axed during the D10 conference in May.
"Will we kill it?" Cook said, referring to the service. "I don't know. We'll look at that."
He said that while Apple does not have its own social network, the company needs to "be social."
It was reported earlier in September that Ping may have been spawned by Apple's attempt to compete with music streaming companies like Pandora. The Cupertino tech giant allegedly felt that so-called internet radio would be beneficial in pushing iTunes sales, however the plans were scrapped with Ping promoted as an alternative music discovery solution.
Apple is once again rumored to be working on a music streaming service, however negotiations have yet to bear fruit.
While Ping received some acclaim at launch, the lack of true integration with social networks such as Facebook is thought to have been the service's downfall.
It is not clear what, if anything, will replace Ping, but Cook noted the deeper integration of Twitter and Facebook in iOS and the upcoming OS X 10.8.2 Mountain Lion update are examples of the company's social initiatives.