Apple Music Radio debuts in iOS 8.4 & iOS 9 betas with 28 stations, including Beats 1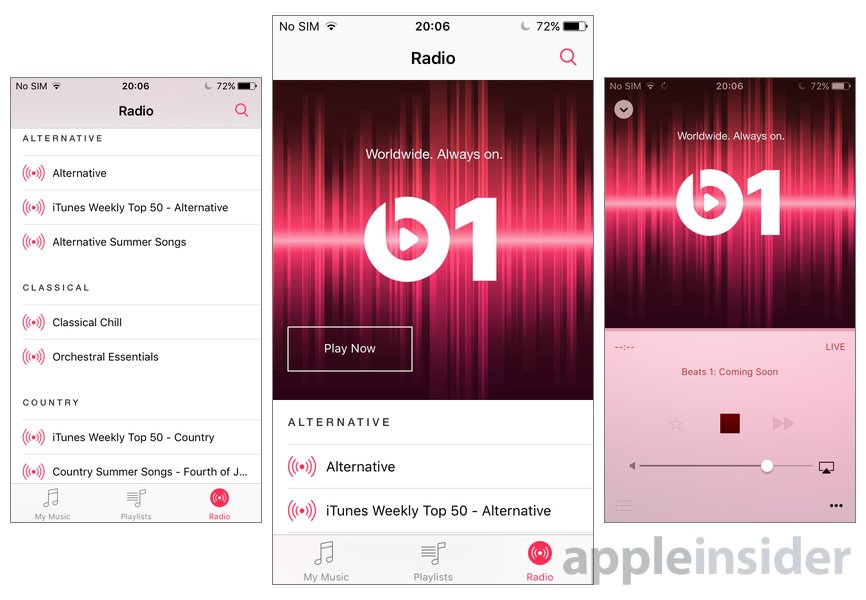 The native Music app in Apple's iOS 8.4 and iOS 9 betas was updated on Thursday with access to a new "Radio" tab, including a preview of the company's new live, flagship radio station Beats 1.
With Thursday's soft launch, there are a total of 28 stations. Beats 1 is Apple's only live station, while the other options are tweaked versions of Apple's previous iTunes Radio genre channels.
Options span the usual gamut of music, from classical to country, and there's even a "Disney Princess Radio" station available. The new "Radio" tab is located in the lower right of the iOS 8.4 and iOS 9 Music app, next to "Playlists" and "My Music."
Beats 1 and iOS 8.4 are expected to formally launch on June 30, alongside the new Apple Music subscription service. Anyone will have access to the Beats 1 station, however.
As of Thursday, the Beats 1 station is not yet live, as it just teases users with a "coming soon" track. In it, DJ Zane Lowe introduces the product and highlights what will eventually be on the channel.
Beats 1 will be live 24 hours a day, seven days a week. It will be hosted by Lowe, former of BBC 1, Ebro Darden of HOT 97 fame, and British tastemaker Julie Adenuga.
Ahead of this month's Apple Music launch, users around the world began seeing signup availability advertised on their iPhones running the latest iOS 8.4 beta starting this week. Apple Music will cost $9.99 per month, but its launch will be accompanied by a three-month free trial period.