iBeacon tech at Cannes Lions 2015 connects attendees, promotes content discovery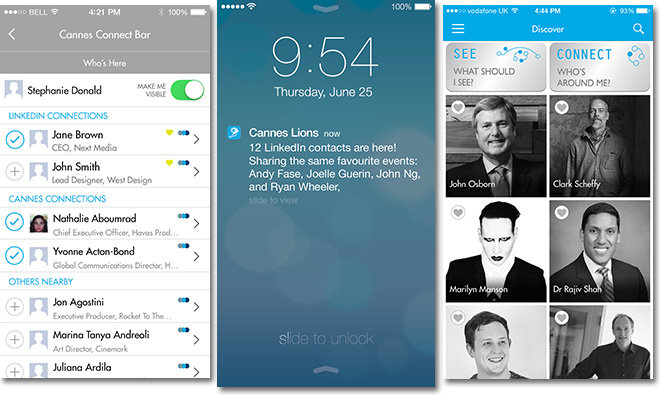 This year's official Cannes Lions International Festival of Creativity app, released on Monday in conjunction with the event, sports integration with Apple's iBeacon technology to offer attendees a personalized experience featuring relevant content surfacing and meet-ups with like-minded event-goers.
Powered by Eventbase, the same company responsible for SXSW's iBeacon-enabled app, the Cannes Lions app leverages iBeacons installed throughout the festival grounds to deliver a variety of customized interactive experiences and real-time information to attendees.
New for 2015 are built-in social networking features that harness Apple's iBeacon proximity-aware technology. For example, "Around Me Enhanced" provides a list view of nearby attendees who are also using the app, as well as venues and events. LinkedIn integration shows first degree connections in the area, while attendees can add new relationships through Cannes Connect.
A social networking discovery feature called "Icebreaker" also taps into LinkedIn to match users who attend or favorite the same session. The technology uses beacons to detect attendees and auto-favorite a session when they stay for at least 15-minutes. iBeacons are also used to offer session recommendations based on user profiles and preferences.
Apple's iBeacon was introduced with iOS 7 as a method of close proximity communications between iOS devices and semi-permanent beacon fixtures. Using Bluetooth Low Energy, iBeacons allow app makers to build in highly accurate location-based features. For example, Apple's own retail stores use iBeacon arrays to serve up product information, in-store event calendars, Genius Bar appointment status and more.
The Cannes Lions International Festival of Creativity started on Sunday and runs through June 27.