Apple highlights LGBT content with special curated App Store section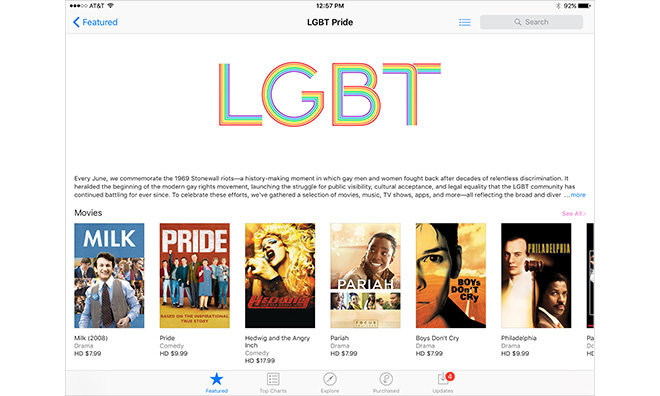 In celebration of efforts made toward gay, lesbian, bisexual and transgender rights equality, Apple on Thursday added a special section to the iOS App Store pointing to movies, music, TV shows, apps and other online media it says reflects LGBT pride.
The featured content ranges from movies like "Milk" and "Hedwig and the Angry Inch" to popular TV shows such as Netflix's "Orange is the New Black." App selections include LGBT-themed magazines, news aggregators and local event calendars. Books, podcasts and music are also highlighted in the featured App Store category.
Every June, we commemorate the 1969 Stonewall riots — a history-making moment in which gay men and women fought back after decades of relentless discrimination. It heralded the beginning of the modern gay rights movement, launching the struggle for public visibility, cultural acceptance, and legal equality that the LGBT community has continued battling for ever since.
As a supporter of various U.S. civil rights initiatives, Apple has long been involved in the promotion of LGBT rights. Last July, for example, the company took part in San Francisco's LGBT Pride Parade as an officially sanctioned a group, with marchers handing out free iTunes song cards to bystanders along the route.
At Apple, support for civil rights initiatives comes from the top. When CEO Tim Cook was inducted into the Alabama Academy of Honor, he spoke out on a number of issues facing minority groups in America, one of which being slow progress in achieving equal rights for the LGBT community. Days later, he came out publicly in an essay published by Bloomberg.
Along with institutional initiatives, Apple's top executives spur change out of the office through philanthropic gifts. In December, Cook donated a "substantial sum" to the Human Rights Campaign's Project One America, an organization committed to bring LGBT equality in Alabama, Mississippi and Arkansas.