Rumor: Apple 'cautious' in placing orders for late 2015 launch of 12.9" 'iPad Pro'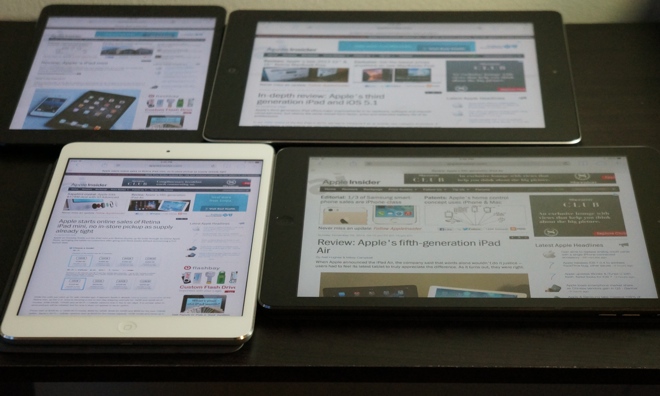 Suppliers are expected to begin providing components for a so-called "iPad Pro" in late September, but Apple is said to be taking a conservative approach in placing orders for its anticipated 12.9-inch touchscreen tablet.
As it gears up for a late 2015 launch, Apple has been "rather cautious" with build orders for the jumbo-sized iPad, according to DigiTimes. Citing its supply chain sources, it said that initial shipment volume for the 12.9-inch tablet is "much lower" than most industry observers suspect.
It should be noted the publication does have a poor track record with respect to Apple rumors, specifically the timing of product launches. For example, in 2013 DigiTimes incorrectly reported that an iPad with larger display would debut in the second half of 2014.
However, there has been recent evidence to suggest the launch of a 12.9-inch iPad is imminent, including code in iOS 9 hinting at a 2,732-by-2,048-pixel display, with a pixel density of about 263 pixels per inch. The upcoming software update also includes a larger iPad keyboard with an extra row dedicated to traditional keyboard inputs like Tab and Caps Lock.
According to DigiTimes, the "iPad Pro" will be manufactured by Foxconn, and supply chain sources expect the device to become available after mid-November. However, it wouldn't be surprising to see a larger iPad launch slightly earlier than that timeframe, as Apple typically holds events in October to announce updates to its iPad lineup, with new models hitting store shelves by the first week in November.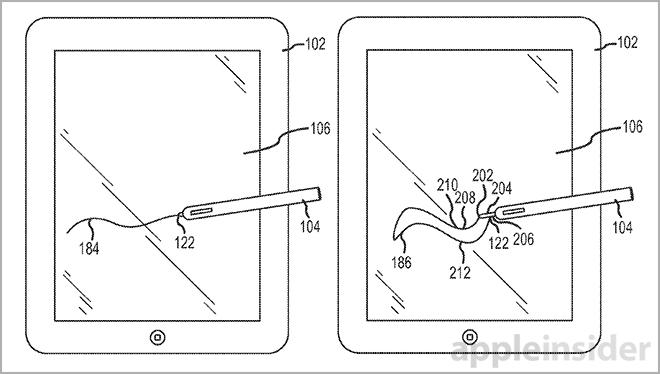 One of Apple's latest filings detailed an iPad stylus with extendable 'multitouch' nib, onboard light and motion sensors.
AppleInsider's own sources indicated back in May that Apple is indeed working on a larger iPad that will include an all-new Bluetooth stylus accessory with pressure sensitivity. The jumbo-sized iPad is also expected to include Force Touch input, NFC functionality, and a USB-C connection port.
Anticipation for the "iPad Pro" continues to grow as Apple has faced declining sales for its current iPad lineup. Observers have speculated that a larger iPad with a stylus input option could cater to professionals and enterprise users looking for a more full-featured, potentially laptop replacing computing experience on a highly portable touchscreen device.
Apple Chief Executive Tim Cook has signaled he is bullish about the prospects for the iPad over the long-term. Though he told investors in January that they shouldn't expect sales to turn around in the immediate future, he has also suggested his company could have a few tricks up its sleeve.
"I view it as a speed bump, not a huge issue," Cook said of continued declining iPad sales last October. "That said, we want to grow. We don't like negative numbers on these things."