iOS 9 tips: Disconnect from a Bluetooth accessory without making your iPhone forget it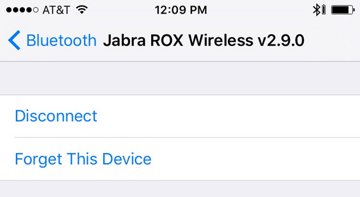 AppleInsider may earn an affiliate commission on purchases made through links on our site.
Starting with iOS 9, Apple has made it possible to disconnect an iPhone from a Bluetooth device without the need to "forget" the wireless accessory, making it easier to reconnect without going through the pairing process again.
In previous versions of iOS, accessing the Bluetooth settings for most accessories simply displayed the option "Forget This Device." Selecting it would not only disconnect from the Bluetooth accessory, but also prevent automatic pairing in the future.
Starting with iOS 9, Apple has added a new option for Bluetooth devices: Open Settings, select Bluetooth, then tap the "i" circle button to the right of the accessory. From there, you can see the new "Disconnect" option, alongside the legacy "Forget This Device" choice.
By selecting Disconnect, users can keep a Bluetooth accessory among their list of stored wireless devices.
This new option will make it easier for users to switch control to another iPhone or iPad or another device, especially with legacy Bluetooth accessories that do not support connections from multiple devices. It also negates the need to once again go through the pairing process to "re-learn" a Bluetooth accessory and use it.
iOS 9 also includes a new battery widget in Notification Center that will allow users to quickly view the current battery level of any connected Bluetooth accessory. This includes headphones, speakers, and even the Apple Watch.