Siri knows about Apple's new iPhone event on Sept. 9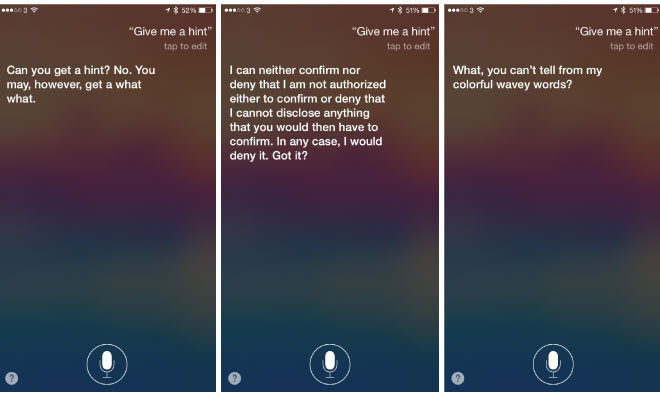 The invitations for Apple's upcoming Sept. 9 event were designed around Siri — Â bearing what she would call "colorful wavey words" and the phrase "Hey Siri, give us a hint" — and it turns out there's more to it than meets the eye, as the erstwhile digital assistant actually does drop some knowledge.
As is usually the case with Siri's canned replies, she can be a bit sassy when pumped for clues. "You're cute when you're desperate for information," she might say.
"You'll have to wait until September 9," begins another answer. "I bet you were one of those kids who snuck downstairs to open presents early, weren't you?"
"Look deep within yourself and you will find the answer," she says in a different quip. "Especially on September 9."
Elsewhere, Siri looks to Jay-Z for her lyrical inspiration: "Can you get a hint? No. You may, however, get a what what."
A full gallery of responses is embedded below.