Apple CEO Tim Cook makes surprise appearance at Cisco's annual sales conference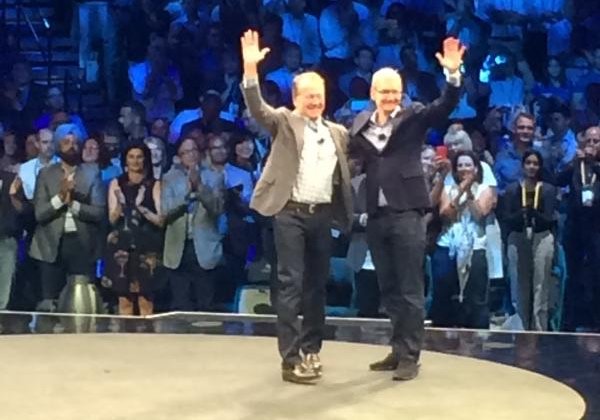 In the wake of Apple's newly announced enterprise partnership with Cisco, Chief Executive Tim Cook appeared onstage at Cisco's annual "GSX" Global Sales Experience in front of 20,000 employees to discuss the news.
Cook took the stage in Las Vegas with Cisco's own newly appointed executive chairman, John Chambers, where the two discussed the newfound Apple-Cisco partnership.
Apple's CEO made it clear that he envisions this partnership with Cisco for the long haul, telling salespeople in attendance that he wants Apple to have a relationship with Cisco "long after I am dead and gone," as quoted by Negisa Taymourian.
Just before Cook took the stage, Apple and Cisco announced they will partner on a new effort to optimize networks for iPhones, iPads and iOS apps. Apple's products will boast deeper integration with Cisco's industry standard voice and video communications products, ensuring that iOS devices work more efficiently.
Cisco is the largest provider of enterprise networking devices and networked services around the world. A strategic alliance with Apple gives the company a leg up in Apple's growth in the enterprise, particularly as "bring your own device" trends grow among businesses.
At Cisco GSX, Cook said the alignment with Cisco is "the holy grail" of partnerships, according to Brad Failor.
Those in attendance who posted on Twitter were taken by complete surprise when Cook took the stage. Chambers was also said to have received a standing ovation from enthusiastic Cisco salespeople.