If you buy AppleCare+, Apple's new iPhone Upgrade Program is a great deal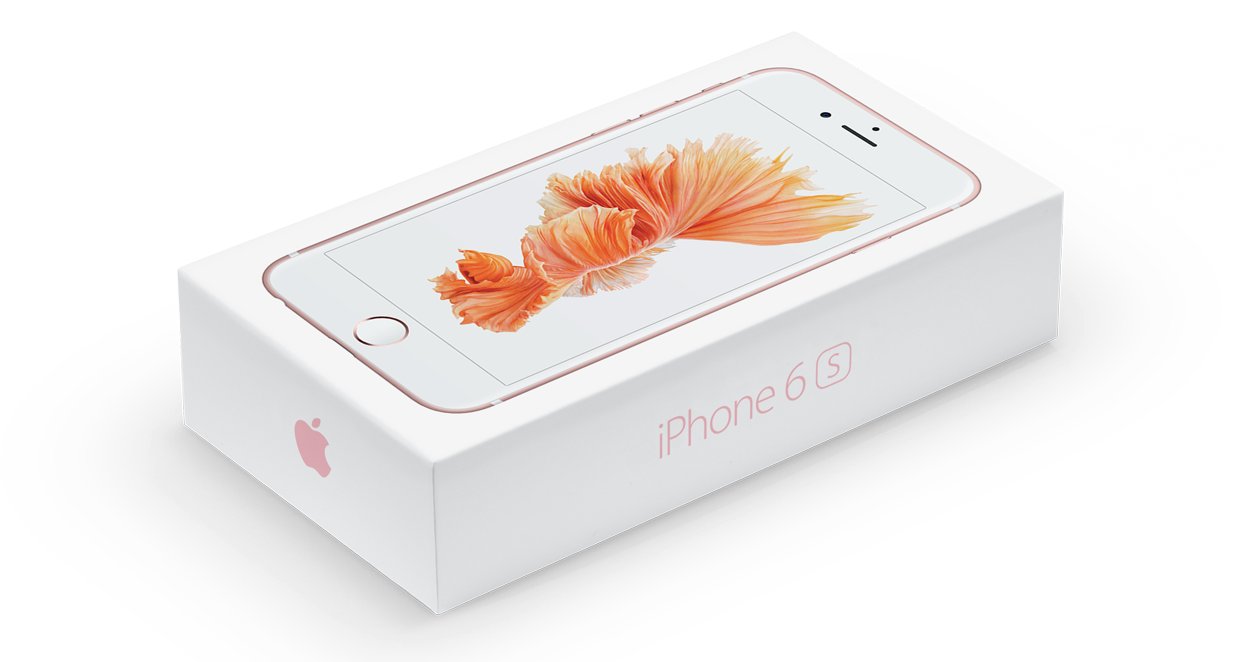 While it lacks the fanfare of new hardware or software, one of the biggest announcements from Apple this week was its competitive iPhone Upgrade Program. It's actually an interest-free way to pay off your new iPhone and AppleCare+ warranty over a two-year period, with the added option to upgrade your iPhone to the latest model every year.
tl;dr: Apple's new iPhone Upgrade Program is a no-brainer for customers who buy AppleCare+ and want to upgrade their iPhone every year.
Unlike installment plans offered by some wireless carriers, Apple's iPhone Upgrade Program features a completely unlocked iPhone. In addition, the program is also interest free, so the loan comes at no cost to you.
In other words, the price you pay over two years is identical to what you would pay upfront for a new, unlocked iPhone 6s and AppleCare+ two-year warranty.
Consider the mid-tier 64-gigabyte iPhone 6s, which sells for $749. Adding on a $129 AppleCare+ warranty brings the total cost to $878.
The iPhone Upgrade Program for the same 64-gigabyte iPhone 6s with AppleCare+ costs $36.58 per month for 24 months. That adds up to $877.92, or 8 cents less than you would pay upfront for an identical phone and warranty.
Apple's plan also has the added benefit of offering customers the ability to get a new iPhone after 12 payments. That means users who sign up for Apple's installment plan can trade in their iPhone 6s next September, and obtain a new, hypothetical "iPhone 7" by re-extending their iPhone Upgrade Program out 24 months.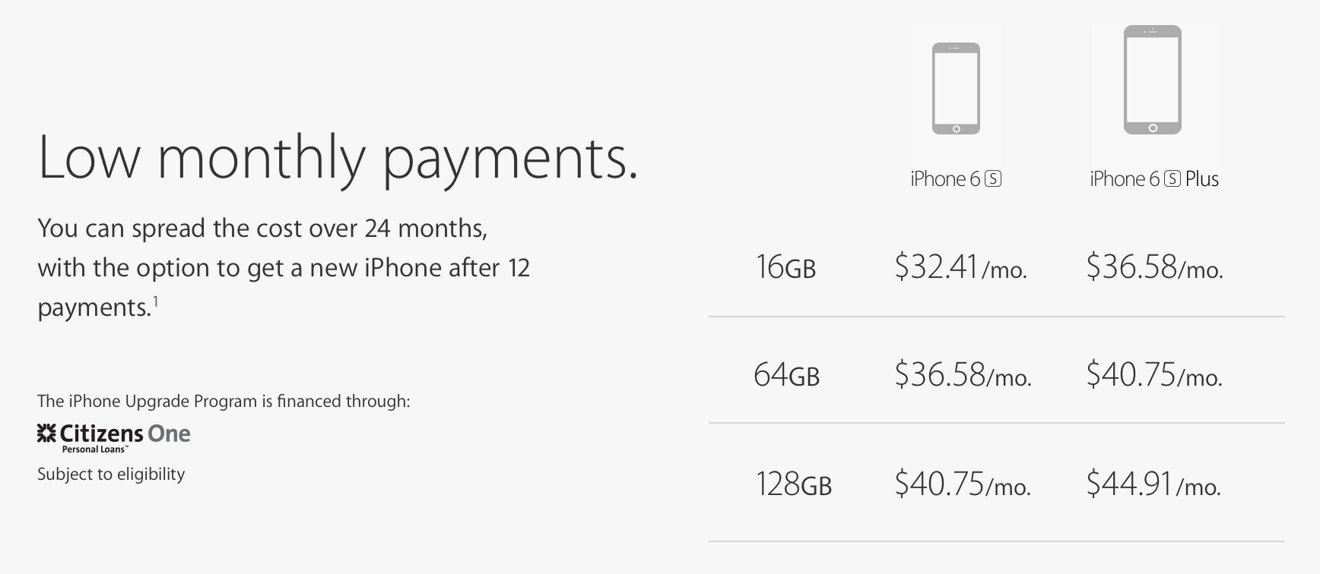 So what's the catch? From what we can tell, there isn't much of one.
Apple's interest-free loan is backed by Citizens One, and will be available at the company's U.S. retail stores. Qualifying buyers will need to physically go into an Apple Store to apply and pick up their phone, and activate with a U.S. carrier. And of course, you'll need to pass a credit check to be approved for a loan.
Apple will begin accepting reservations for iPhone Upgrade Program applications this Saturday, Sept. 12, at 12:01 a.m.
Contrasting with carriers
In recent years, carriers have been moving away from contract subsidies and have instead been spreading out the cost of a new phone with installment plans. That means the $199 advertised price for a 16-gigabyte iPhone 6s is no longer actually obtainable by a number of customers.
The new iPhone Upgrade Program is a response to that, and it's a consumer-friendly approach that takes power away from Apple's carrier partners. With zero interest charges over two years and a completely unlocked handset, Apple's loan becomes a no-brainer for anyone who plans to buy AppleCare+ for their new iPhone.
T-Mobile has an aggressive introductory iPhone 6s payment plan, but the other carrier installment programs probably aren't worth your time.
However, some carrier installment plans may still be a better option for some consumers who do not plan on buying an AppleCare+ warranty, or who don't mind owning a locked phone.
For example, T-Mobile's Jump On Demand program is offering a special introductory discount rate for the iPhone 6s, charging $20 a month for 18 months with $0 down, for customers with qualifying credit. The carrier is also offering the iPhone 6s Plus for $24 a month.
The T-Mobile plan runs for 18 months, after which customers can pay $164 more to keep their iPhone 6s. That leaves the total cost of the phone at just $524, or $125 cheaper than the actual price of the handset. And, of course, you can add your own AppleCare+ for $129.
Why so cheap? T-Mobile is hoping you'll be so impressed by their network that you'll stick around, and presumably upgrade to the next iPhone through their plan in 2016.
The carrier is also pushing a "Lifetime Coverage Guarantee," where it offers to unlock an iPhone after the first month of service if the customer is unhappy with reception. Users will simply need to pay off the rest of the phone via interest free installments, but they are free to take their iPhone to a competing carrier.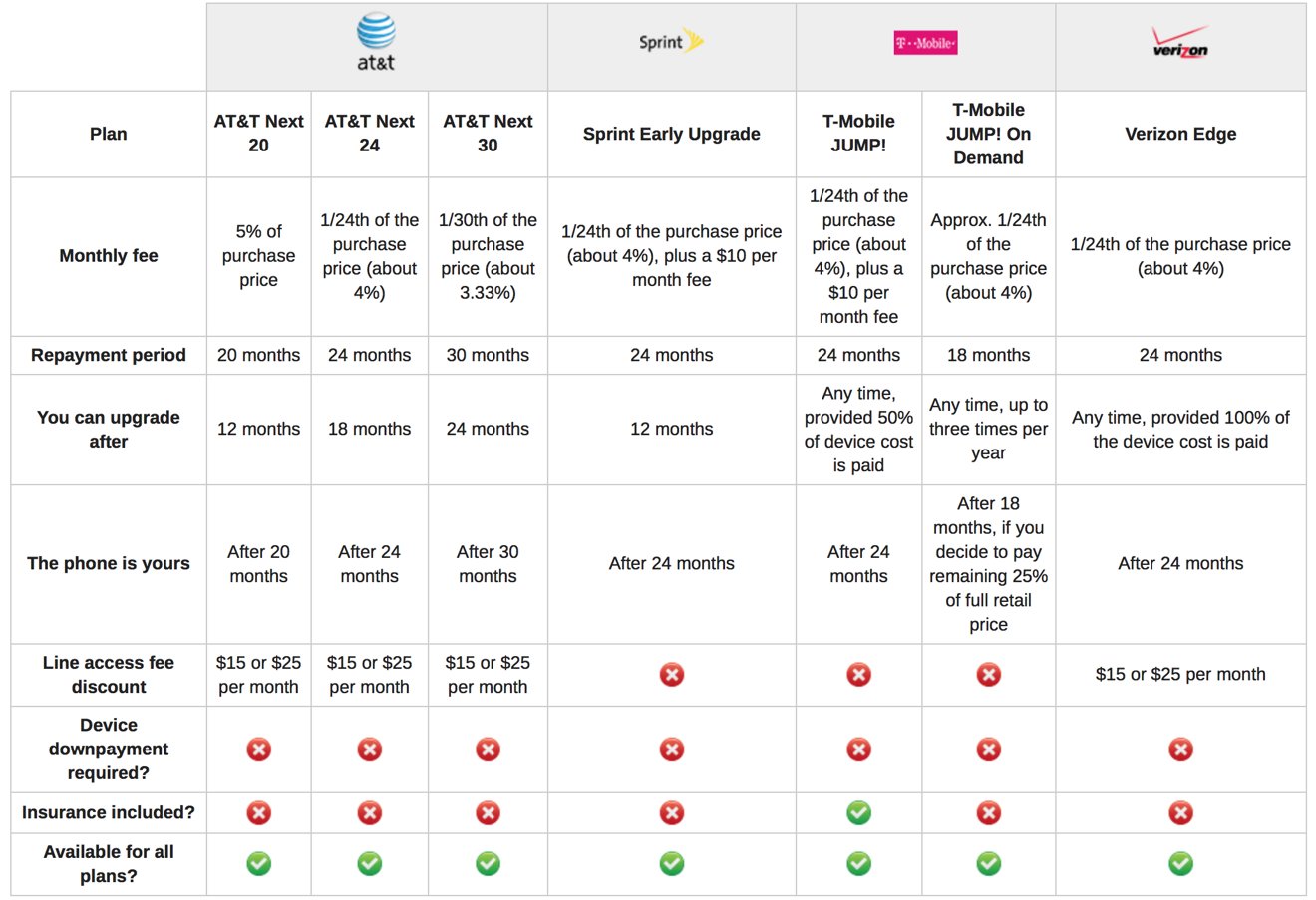 Outside of T-Mobile, the other carrier options in the U.S. just aren't as competitive or clear for consumers. For starters, if you opt in to an AT&T or Sprint installment plan, your iPhone will remain locked to that carrier until it is paid off in full. Apple's iPhone Upgrade Program sells you a completely unlocked iPhone from day one.
Verizon does sell an unlocked iPhone with its plan, but it's a 24-month interest-free loan with no opportunity for an early upgrade, losing out to Apple's plan and its 12-month upgrade option.
Sprint offers an "iPhone for Life" plan that costs $22 per month and allows users to upgrade to a new iPhone whenever it launches. For a limited time, customers who trade in a smartphone can get the same plan for $15 per month until their next upgrade.
If you're not trading in a handset to Sprint, the full $22-per-month price works out to $264 over 12 months, and the addition of AppleCare+ brings the total first-year cost to $393. That's slightly more expensive than Apple and, again, comes with a carrier-locked handset.
AT&T has plans where customers can upgrade their phone, with a trade-in, after either 12, 18 or 24 months, though actually paying off the full loan takes longer than that.
An AT&T Next 12 plan for the 16-gigabyte locked iPhone 6s will cost $32.50 per month, spreading the interest-free payment over 20 months, and without AppleCare+.
Comparing apples to, well, Apple, an AT&T Next 12 customer with AppleCare+ would pay $519 over the first 12 months before they could upgrade, while an Apple iPhone Upgrade Program customer would pay $388.92 — Â a savings of $130.08 for an annual upgrader.
So who should opt for a carrier plan? Someone who has no plans to purchase AppleCare+ and has no concerns about being locked into their carrier for two years or longer.
The bottom line: If you're a U.S. customer, you plan on upgrading your iPhone in less than two years, and you aren't interested in T-Mobile, Apple's iPhone Upgrade Program is your best bet, hands down. Carrier installment plans are too restrictive and confusing, while Apple's offering is simple, streamlined, and will let you get a new iPhone every year at no extra cost to you, outside of the ongoing monthly payment plan.