Tim Cook visits NYC Apple Store, Apple Pay chief Jennifer Bailey to speak at Code/Mobile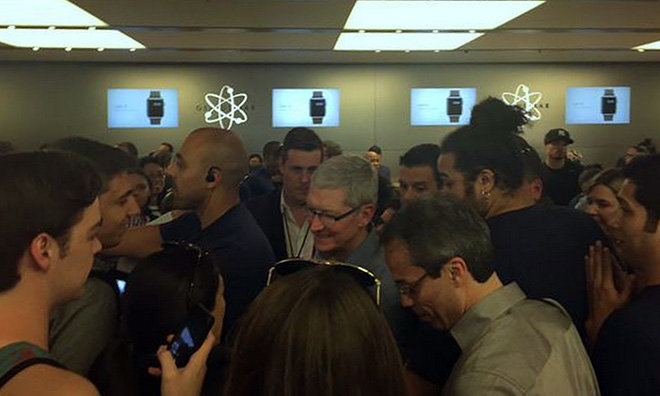 Apple executives are making the rounds following this month's big iPhone, iPad and Apple TV reveal, with CEO Tim Cook visiting a New York City Apple Store on Monday and Apple Pay head Jennifer Bailey scheduled to attend the upcoming Code/Mobile conference in October.
Cook was spotted at the Fifth Avenue Apple Store with SVP of Internet Software and Services Eddy Cue, as seen above in pictures posted to Twitter by BuzzFeed's Mat Honan. Cook is in New York City to tape an episode of CBS's "The Late Show with Stephen Colbert," set to air on Tuesday.
Cook's appearance came on the heels of another large gathering at the SoHo Apple Store, where Kim, Khloé and Kourtney Kardashian, with sisters Kendall and Kylie Jenner, were on hand to talk mobile apps. The Kardashian clan launched a series of new apps on Monday, one for each reality star, that offers yet another window into their already public lives. Kourtney's app is slated to debut in the near future.
Apple is also looking to promote its Apple Pay payment services arm, with vice president Jennifer Bailey slated to take part in Re/code's upcoming Code/Mobile conference. This year's event, which runs from Oct. 7 through Oct. 8, focuses on mobile payments and the proliferation of smartphone technology in industries like automotive.
Bailey notably took point at this year's Worldwide Developers Conference when she announced Apple Pay support for the UK, the first international market to be granted access to Apple's service.