Apple updates iMovie with support for 4K video, 3D Touch and more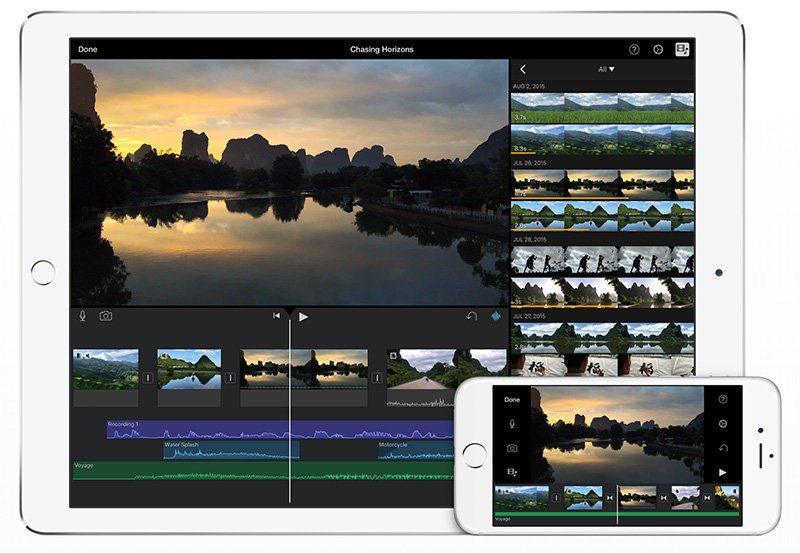 As part of Wednesday's iOS 9 release, Apple updated its portable version of iMovie with support for editing 4K video and new UI gestures to be introduced alongside iPhone 6s and iPad Pro.
The biggest addition to iMovie is 4K video support, a feature that will no doubt come in handy once the 4K-capable iPhone 6s and 6s Plus launch next week. Apple notes the feature is restricted to iPhone 6s, 6s Plus and iPad Pro.
The new editor can also crunch through 1080p video at 60 frames per second, an enhancement over previous versions that allows moviemakers to edit action content for upload to supporting services like YouTube.
Other device-specific features include 3D Touch gestures for iPhone 6s and iPhone 6s Plus. It seems Apple is using the pressure-sensitive input method as an integrated shortcut system, as it can be used to start a new movie project directly from the home screen.
For the forthcoming iPad Pro, which sports an all-new A9X SoC, iMovie is able to cut multiple 4K video streams, a processor-intensive task even for desktops. The app also supports a full-height Media Browser, pixel-for-pixel 1080 HD Viewer and keyboard shortcuts mapped to iPad Pro's Smart Keyboard.
Option to hide Media Browser while editing a movie
Option to disable Ken Burns animation on a photo
Redesigned Project Details view lets you watch movies and trailers before opening them
Redesigned Video view lets you see more of your library while browsing videos and photos on iPad
Improved Inspector controls with easy-to-read text labels on iPad
Support for Slide Over and Split View when multitasking with the iMovie Extension for Photos
Redesigned Audio browser in the iMovie Extension lets you easily browse and hear music
Performance and stability improvements
Support for Canadian French, Hindi, and Traditional Chinese (Hong Kong)
Apple's latest iMovie update is available as a free download for existing users, while new users can pick up a copy for $4.99 through the iOS App Store.