iOS 9 adoption at 12.5% and rising after 24 hours of availability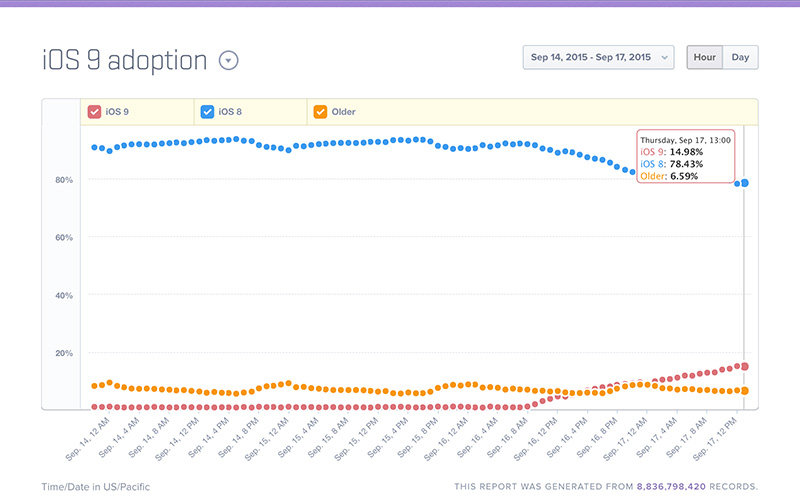 Adoption of Apple's new iOS 9 mobile operating system reached 12.5 percent approximately 24 hours after launch, one analytics firm claims, a rate on track with last year's iOS 8 debut.
According to live updates provided by Mixpanel, iOS 9's swelling numbers appear to be driven mainly by users upgrading from iOS 8, as impressions from devices running older operating systems are holding steady.
As of 4 p.m. Pacific, iOS 9 accounted for about 15 percent of analyzed traffic, with various flavors of iOS 8 taking over 78 percent and older iOS versions at 7 percent. Adoption rates are similar to last year's iOS 8 launch, but less than iOS 7, an unsurprising result considering 2013's massive UI overhaul. By some counts iOS 7 distribution soared above 31 percent after 48 hours of availability.
Apple launched iOS 9 on Wednesday with a number of major changes to system level features like enhancements to Siri, proactive search functions and new apps like News and Wallet. Other modifications include better battery management and first-party app improvements.
Further, iOS 9 sports a number of features exclusive to iPad's larger screen like Slide Over and Split View multitasking, as well as picture-in-picture video viewing. QuickType keyboard tweaks open the door to new multitouch gestures and iPad-only shortcuts.
As with previous iOS updates, iOS 9 is built to take full advantage of Apple's latest mobile hardware. For example, the iPhone 6s and 6s Plus, which start shipping next week, get support for 3D Touch gestures, while the forthcoming 12.9-inch iPad Pro is capable of true split-screen multitasking. In combination with specialized hardware on iPad Pro, the OS also enables compatibility with the pressure- and tilt-sensitive Apple Pencil.