iPad mini 4 display catches up with Air 2 in color gamut, outdoor visibility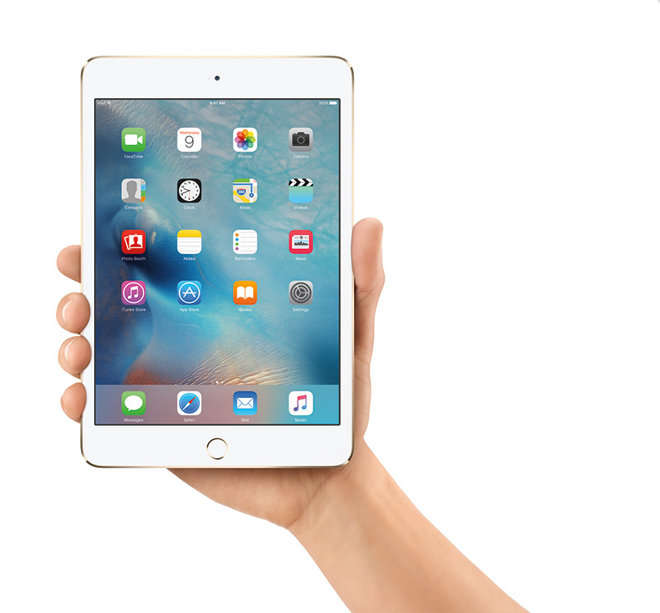 AppleInsider is supported by its audience and may earn commission as an Amazon Associate and affiliate partner on qualifying purchases. These affiliate partnerships do not influence our editorial content.
The iPad mini 4 uses a display far superior to those of earlier Mini models, both in terms of color reproduction and how much ambient light it reflects, according to testing and calibration firm DisplayMate.
The Mini 4 now covers "a full and very accurate" 101 percent of the sRGB color gamut, DisplayMate said. Previous Minis managed just 62 percent of the gamut, and with weak color saturation to boot. The new tablet's color accuracy puts it on par with the iPad Air 2, as well as recent iPhone models.
The device is also said to have screen reflectance of just 2 percent, better not only than the 6.5 percent on the Mini 3 but the 2.5 percent on the Air 2, DisplayMate's previous record holder. Most current tablets are said to have reflectance between 5 and 6.5 percent.
Minimizing reflectance is important for maintaining contrast and color saturation under intense lighting, particularly outdoors.
The Mini series has regularly been criticized for using inferior displays next to those on full-size iPads. The Mini 4, though, has been upgraded to better match the Air 2 in many respects, such as RAM and processing power.
The tablet is still missing features of the display on the iPad Pro. When it ships in November, the Pro will offer things like a variable refresh rate and vastly improved touch accuracy, the latter needed to support the Apple Pencil.