Apple's space-saving App Thinning feature delayed due to iCloud issue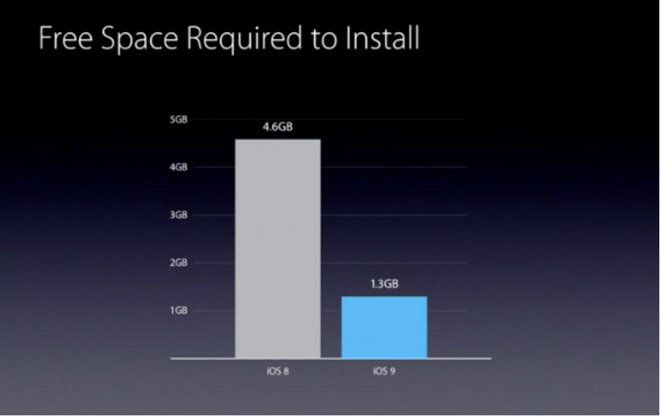 Users looking to take advantage of iOS 9 App Thinning, a suite of optimization technologies created to reduce the size of app installs, will have to wait, as Apple announced unavailability of a key component due to an iCloud bug.
In a post to its developer website on Thursday, Apple informed developers that an issue with iCloud backups prompted the deactivation of "app slicing," a technology that pares down an app's footprint by limiting stored resources to the bare essentials.
As one of App Thinning's three tentpole features, app slicing allows downloads to contain only those assets required for a particular device configuration. For example, an app running on an iPhone 5s may not need the same graphical assets as a larger-screened iPhone 6, so those files are not downloaded.
Since the iOS App Store separates assets to push out to specific devices, users are theoretically able to transport app data across different devices without trouble. However, a bug in iCloud is prohibiting app backups from restoring to other device types; from iPhone 5s to iPhone 6, for example. Instead of device-specific downloads, customers will receive full Universal app versions until the problem has been addressed in a future software update, Apple said. App evaluation tool TestFlight will continue to deliver variants to testers.
App slicing, On Demand Resources and Bitcode form a triad of space-saving iOS 9 features Apple dubbed App Thinning. In conjunction with iCloud storage and syncing, App Thinning and other technologies enable sales of lower capacity, and therefore cheaper, device variants like the 16GB iPhone 6s.