Apple activates 'Nearby' Maps search results in 4 countries, expands Flyover support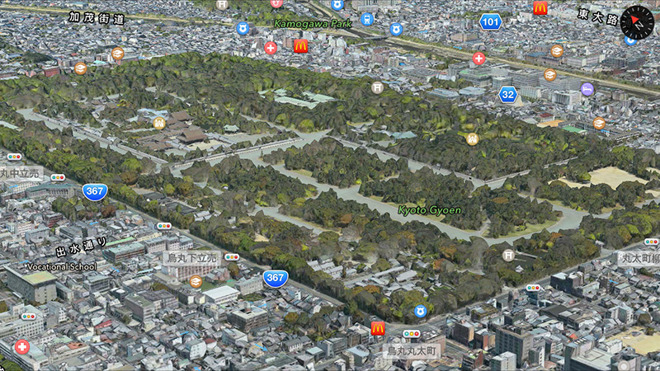 FTC: When you purchase through links on our site, we may earn a commission as an affiliate & Amazon Associate.
Apple on Monday improved its in-house Maps offering by activating Nearby search functionality in Australia, Canada, France and Germany, while at the same time adding Flyover locations across Europe, Asia and North America.
According to Apple's Maps Feature Availability webpage, the company's new Nearby local search feature has been extended beyond initial offerings in the U.S. and China to Australia, Canada, France and Germany.
Nearby was introduced in Maps for iOS 9 as a proximity-based local search function that surfaces commonly queried points of interest like restaurants, bars, gas stations and more. Instead of typing in specific terms, users are presented a list of close-by businesses and attractions, split into categories including Food, Health, Services and Shopping, among others.
In addition to Nearby enhancements, Apple added 15 new locations to its constantly expanding 3D Flyover roster, including popular tourist destinations in Japan, Europe and the U.S.
Basel, Switzerland
Bielefeld, Germany
Gorge Du Verdon, France
Hawaii (Big Island), US
Hiroshima, Japan
Kyoto, Japan
Lassen Volcanic National Park, CA
Leon, Spain
Nagoya, Japan
Okayama, Japan
Osaka, Japan
Porto, Portugal
Prague, Czech Republic
Sendai, Japan
Tulum, Mexico
Flyover, with its photorealistic bird's-eye view of select locations worldwide, is touted by Apple as a tentpole Maps feature. The service has been extended to include Flyover city tours for major cities like London, Paris and New York, though support for smaller cities has been slow going.
Aside from its current feature lineup, Apple is thought to be developing a street-level mapping solution to rival Google Street View. A number of Apple Maps Vans are on the road collecting imaging and positioning data in England, France, Ireland, Italy, Sweden and across the U.S.
Apple last updated Flyover in September with additional support for locations in France, Germany and Japan.