JPMorgan Chase partners with CurrentC to offer Apple Pay alternative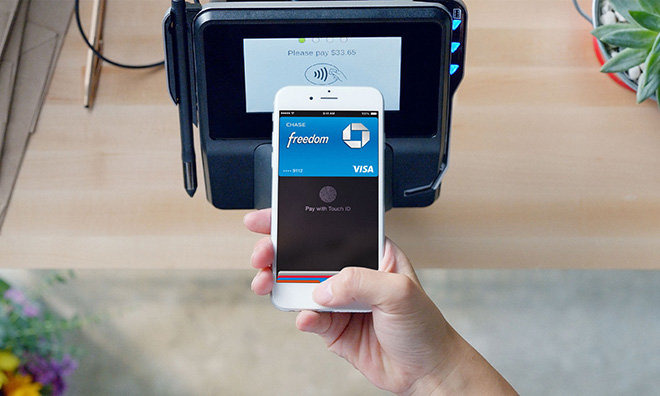 AppleInsider may earn an affiliate commission on purchases made through links on our site.
JPMorgan Chase, one the largest banks and an early partner of Apple Play, has announced plans to partner with the MCX CurrentC platform in an effort to offer its own "Chase Pay" app using scannable bar codes rather than tap-to-pay NFC technology.
Chase Apple Pay will now get "Chase Pay" alternative
In February, Chase announced to investors that it had already provisioned one million Apple Pay users, figures similar to those cited a few weeks earlier by Bank of America.
Eileen Serra, CEO of Chase Card Services, stated at the time, "we do continue to see good growth in the number of consumers that are provisioning Chase cards in their Apple Pay wallet."
Chase noted that its Apple Pay customers were on average 9 years younger than than its typical customers but earned 21 percent more, making the demographic a particularly attractive segment to serve.
The success of Apple Pay now has Chase banking on the prospects of launching its own consumer payment service, which will "will rely on relatively low-tech bar codes displayed by the Chase pay app on any smartphone," according to a report by Yahoo Finance.
MCX's anti-bank retailers partner with... a bank
To launch its cross platform service, Chase is partnering with MCX, a consortium of retailers that initially sought to convince shoppers to pay using store issued cards rather than credit cards issued by banks, in an effort to both reduce their card transaction fees and to collect more data on their customers, using the CurrentC payment app.
Chase Pay is expected to launch its CurrentC app by the middle of next year, giving Apple another six months after "the year of Apple Pay" to continue expanding the number of banks and retail locations supporting its system. Apple Pay has also yet to expand outside of the U.S. and U.K., although a Canadian bank prematurely announced earlier this month to its customers that it would be launching support soon.
CurrentC initially imposed a three-year exclusivity agreement on participating merchants, precluding them from participating in competing payment systems such as Apple Pay. However, those agreements expired this August before MCX was even able to broadly launch its new CurrentC system.
Best Buy, a MCX member that turned off its NFC terminals rather than accept Apple Pay transactions during the exclusivity period, announced this spring that it would be joining Apple Pay by the end of this year. Last month, Best Buy began turning on Apple Pay for its customers.
Last fall, CurrentC suffered an embarrassing security breach that exposed contact information for participants in its pilot program.
One of the larger problems facing CurrentC is that it requires users to turn on their phone, launch the app and present a bar code when making a purchase.
Apple Pay is designed to quickly activate with a button press on Apple Watch or supported iPhones featuring fingerprint authentication, allowing buyers to make a transaction without navigating around on their smartphone. The company has emphasized the speed of Apple Pay in its iPhone advertising (below).
Apple has also outlined that its payment service does not collect data for either banks, retailers or Apple itself, providing only a secure token that delivers money without the attached strings of customer tracking.