Chase announces over 1M wallets provisioned on Apple Pay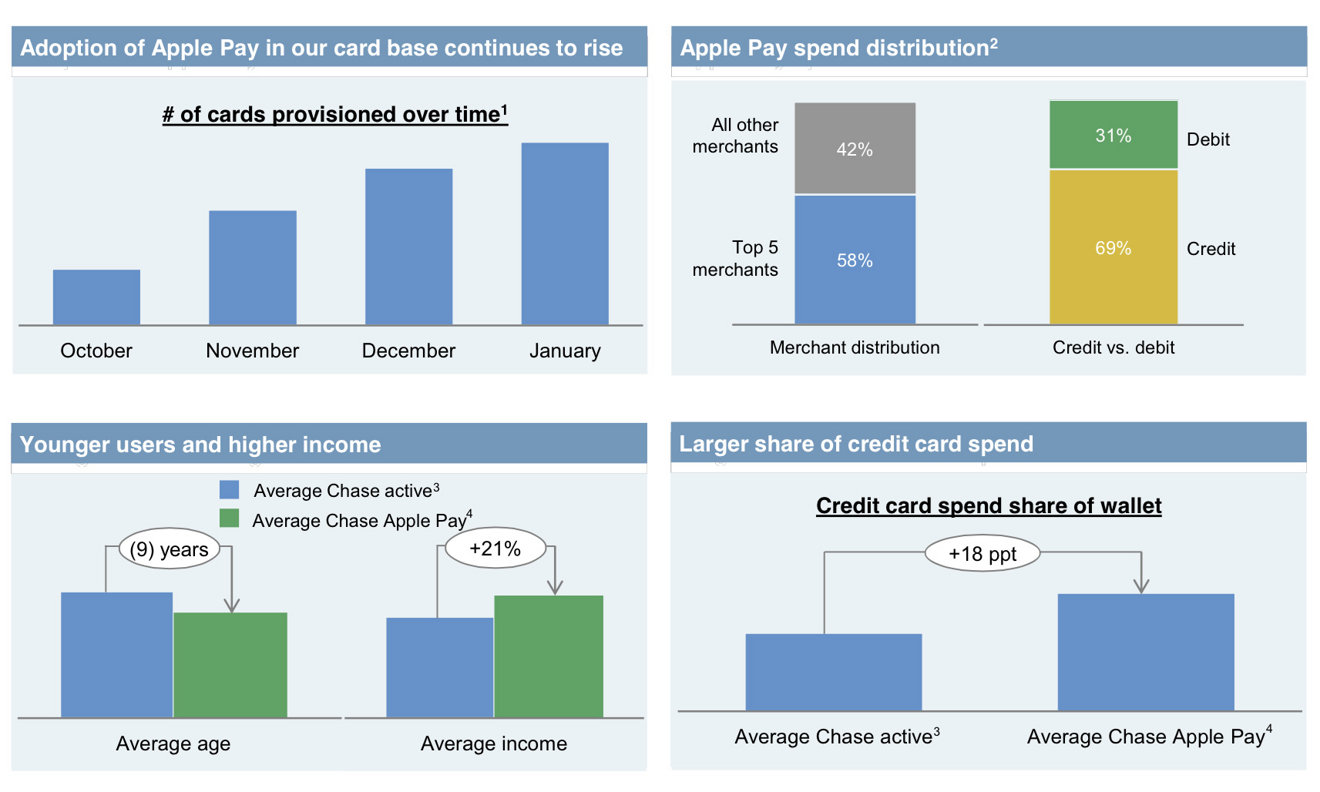 As part of JP Morgan Chase's 2015 Investor Day on Tuesday, the bank went over statistics relating to its credit card business, announcing it has provisioned over one million wallets on Apple's fledgling Apple Pay mobile payments service.
During today's investor conference call, Chase said that more than one million customers have provisioned their credit and debit cards for use with Apple's digital wallet, opening up opportunities for online and NFC-based touchless payment with the iPhone 6 and iPhone 6 Plus.
"We were an early participant of Apple Pay," said Eileen Serra, CEO of Chase Card Services. "We do continue to see good growth in the number of consumers that are provisioning Chase cards in their Apple Pay wallet."
Serra said Chase customers who use Apple Pay tend to be younger with higher incomes, which is to be expected considering the platform relies on iPhone 6 and iPhone 6 Plus for touchless payments. Since Apple Pay's launch, 69 percent of Chase card transactions were credit based, while debit made up the remaining 31 percent of purchases.
"We've been excited about the feedback we've gotten in terms of the great customer experience," Serra said. "As more merchants adopt, I would expect to see more traction here, as well."
While Apple Pay launched over four months ago, Apple has yet to release detailed adoption numbers, leaving credit card companies, banks and retailers to report their own statistics. During Apple's quarterly conference call last month, CEO Tim Cook forecast accelerated growth and even called 2015 "the year of Apple Pay."
Today's announcement comes after Bank of America revealed similar adoption numbers in January, with almost 800,000 customers provisioning 1.1 million cards on Apple's service.
Earlier today, credit card network Visa announced plans to introduce its network-level tokenization service in Europe this April, laying the technological foundation for an international Apple Pay rollout.