Apple Music for Android beta now available on Google Play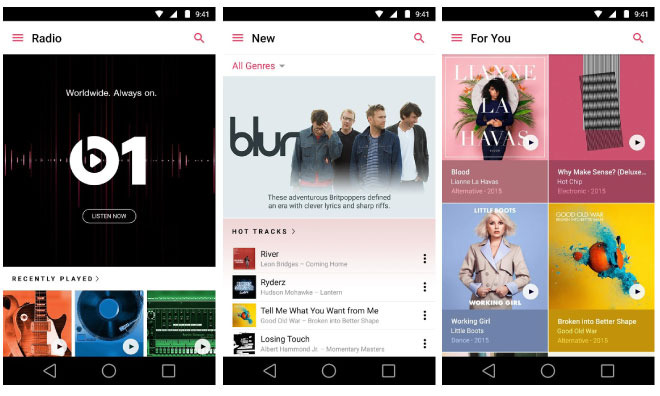 Apple on Tuesday released a beta version of its Apple Music service for Android users, just the third time the Cupertino company has crafted an application for its rival mobile operating system.
Android users can now begin their three-month trial of Apple Music, though Apple says the beta does come with some restrictions. Music videos are not yet available, and the sign-up process hasn't been optimized for Android — purchasing or upgrading to a family membership will require a Mac or iOS device.
The service's other tentpoles are present, however. Just like those on iOS, tvOS, and the Mac, Apple Music users on Android can access human-curated playlists, Beats 1 radio, Connect, and iTunes purchases.
Apple appears to have adapted the application's user interface slightly to conform to Android interaction paradigms, but doesn't seem to have adopted Google's material design.
Apple Music sits at version 0.9.0 for Google's platform and requires Android 4.3 or above. Android users can download the 29-megabyte Apple Music beta for free from the Google Play Store.