iPad Pro contains USB 3.0 controller, hints at ultra-fast Lightning connector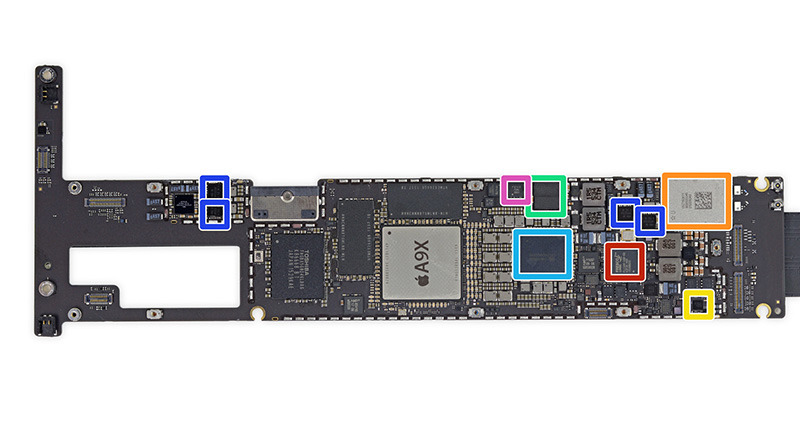 A day after iPad Pro launched on Wednesday, teardowns and reviews of the gigantic tablet reveal Apple quietly included USB controller hardware capable of supporting high-speed USB 3.0 data connections, suggesting a faster Lightning protocol is in the works.
In its iPad Pro teardown, repair firm iFixit discovered the inclusion of Fresco Logic's FL1100 USB host controller, a package capable of delivering USB 3.0 "SuperSpeed" bandwidth to four separate ports. The chip is overkill considering all iPads, including the Pro, connect to host computers via a Lightning platform that tops out at USB 2.0.
As pointed out by MacRumors, a review from CNET claims iPad Pro's Lightning port will support "USB 3-level speeds with forthcoming adapters." Lightning already sports pin-outs to handle USB 3.0 configurations, so these "adapters" could very well be modified Lightning cables. If and when Apple releases compatible Lightning connectors and appropriate firmware updates, iPad Pro is in a good position to be the first iOS device to offer support the fast USB protocol.
The USB 3.0 spec can reach signaling rates of 5 Gbps, a tenfold increase in bandwidth compared to USB 2.0. A boost in data transfer speeds would be a welcome addition to Apple's iOS device lineup given each successive iPhone and iPad generation comes with an increase in processing power. Running Apple's latest A9 series SoC's, iPhone 6s and iPad Pro are capable of chewing through 4K video files in iOS 9 apps like iMovie, though the resulting file size makes exporting to a Mac or the Web somewhat of a challenge.
Apple introduced Lightning connector in 2012 as a replacement for the aging 30-pin connector. Instead of going with an industry standard, the company opted to build its own bidirectional connector, facilitating orientation agnostic plug insertion for a better user experience.
Apple is not averse to USB 3.0, however, as evidenced by its inclusion across the entire Mac lineup. Interestingly, Apple chose to implement USB-C — with a USB 3.1-capable controller capped at 5 Gbps — in the new 12-inch Retina MacBook, a protocol featuring a bidirectional plug design similar to Lightning.