Teardown of iPad Pro reveals revamped component layout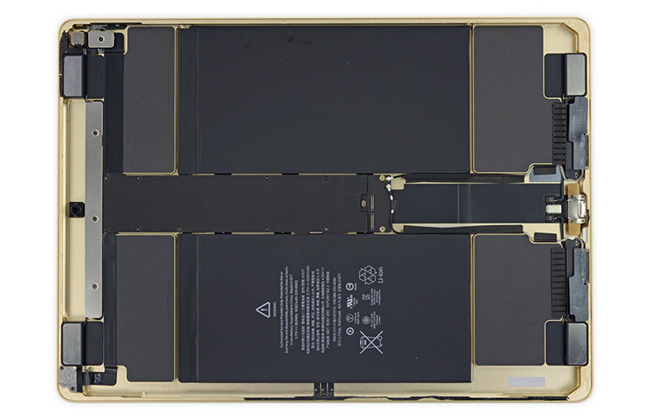 AppleInsider may earn an affiliate commission on purchases made through links on our site.
Repair firm iFixit performed its usual launch day Apple device teardown on the iPad Pro on Wednesday, revealing a reworked internal design dominated by massive batteries and bespoke audio components.
Although Apple provided a fairly comprehensive look at iPad Pro's insides with promotional videos aired at its unveiling in September, iFixit expectedly digs deeper, offering a detailed rundown of the monstrous tablet's design, parts and silicon.
Unseating the huge 12.9-inch Retina display shows off an internal case design illustrating Apple's love of symmetry. Unlike past iPad models, the Pro's logic and subsystem circuit boards sit dead center, flanked by a 38.8 watt-hour battery split into two cells and four self-balancing speakers with accompanying enclosures.
Easily identifiable chips attached to two display circuit boards include two Broadcom BCM15900B0 units, an NXP Semiconductors 8416A1 controller for Touch ID, Parade Technologies DP695 display timing controller and a Texas Instruments TPS65144 thought to be used for LCD biasing.
It appears Apple borrowed iPad Air 2's camera setup for the Pro, with an 8MP rear-facing module joined by a 1.2MP front-facing shooter. Also identical to Air 2 is a space-saving headphone jack with built-in ambient light sensor.
Interestingly, the Pro's four speaker chambers are filled with foam, a feature not shown in Apple's renders. Positioned next to four drivers, these carbon fiber-capped acoustic cavities are specifically designed to resonate sound waves for full, rich sound.
Moving on to the logic board shows a new engineering element for Apple: a screwed-on EMI shield. Beneath the protective barrier lies a neatly configured circuit board hosting Apple's new A9X SoC, 4GB of SK Hynix RAM, 32GB of NAND flash storage from Toshiba, an InvenSense MP67B six-axis gyroscope and accelerometer, NXP 65V10 NFC Controller, NXP Semiconductors LPC11U37 ARM Cortex-M0 microcontroller, Fresco Logic FL1100 4-port USB 3.0 host controller, and a Cirrus Logic 338S1213 audio codec.
Overall, iFixit gives iPad Pro a repairability score of 3 out of 10, citing "gobs" of glue, a fused display and other difficult to service components.