tvOS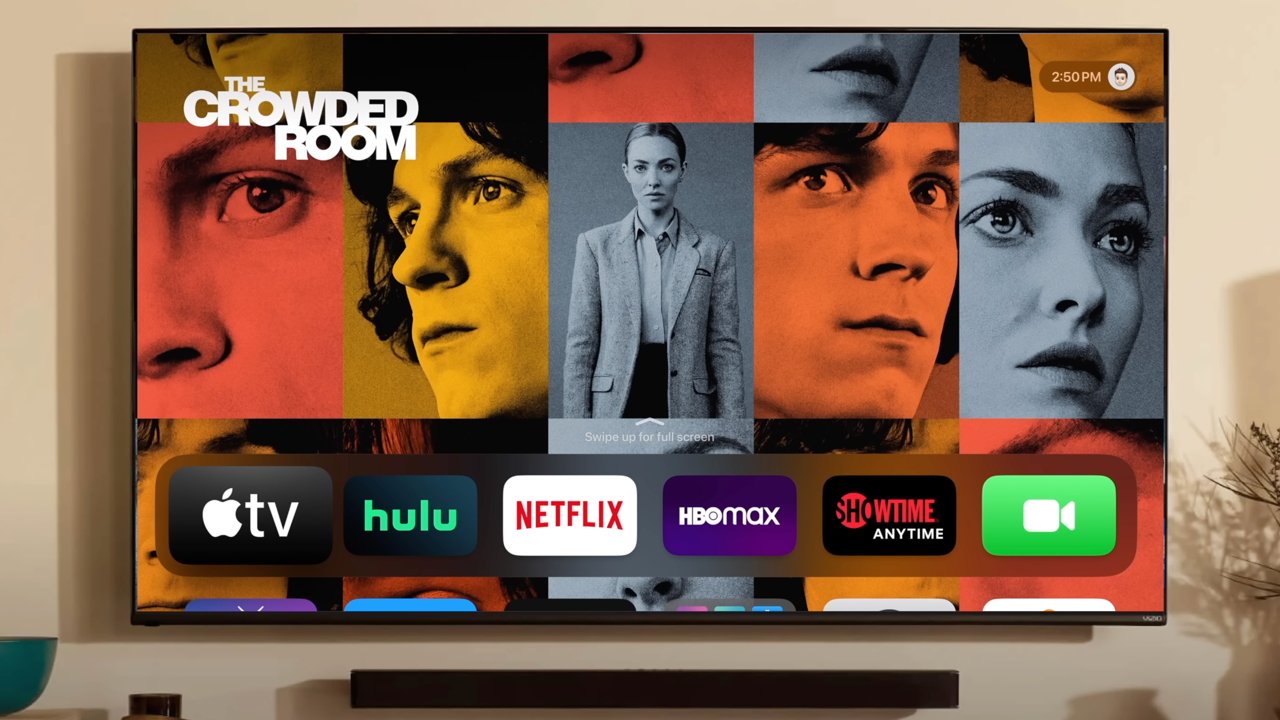 Apple TV has a dedicated operating system and software platform called tvOS. It is optimized for use on large screens with big icons and simple on-screen navigation. Siri acts as one of the primary input options for navigating content.
● Dedicated App Store
● HomeKit Hub
● Apple TV+
● Apple Arcade
● Siri Remote
● Audio Sharing
Page last updated: 1 month ago
---
The tvOS platform is focused on entertainment and gaming app distribution, acting as a window to all of Apple's service platforms. Apple pitches Apple TV as the center of your living room, and tvOS enables access to the greater Apple ecosystem like Apple TV+, Apple Arcade, Apple Music, and HomeKit.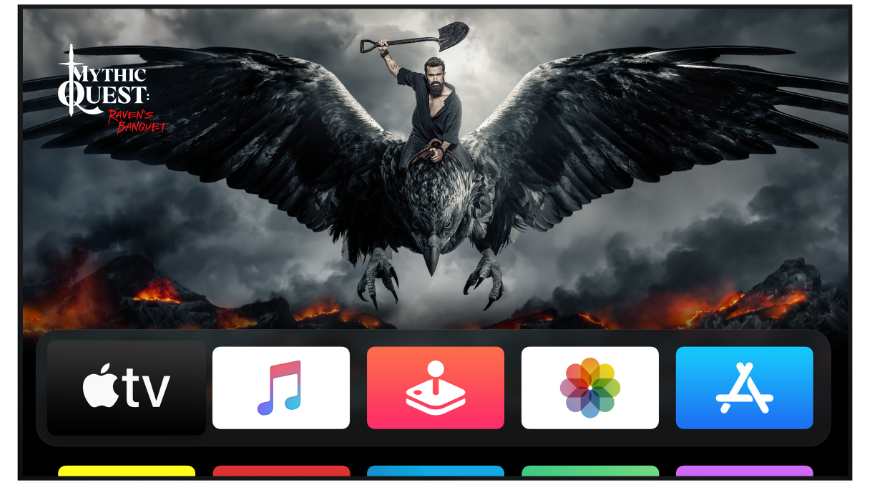 Apple has always used a custom operating system for its Apple TV line, but it wasn't until the fourth-generation model that the company introduced tvOS. The new operating system's primary feature was the App Store. Developers can now offer apps for the platform alongside their iOS and iPadOS counterparts using the same tools provided by Xcode on macOS.
tvOS Features
Very little has changed about the operating system since its debut in 2015 with tvOS 9. Apple has updated the hardware to the Apple TV 4K to enable 4K HDR playback and added special screen savers to take advantage of the higher quality output.
Apple is rumored to release an "Apple TV 6" sometime in 2021 with improved gaming performance and a new remote. The company released its latest update, tvOS 14, in the fall of 2020.
App Store
According to Apple, "The future of TV is apps." While this never fully came to fruition, the App Store on tvOS graduated the platform from "side project" to a full-fledged platform.
When the Apple TV App Store first released, Apple placed a focus on cooking apps, real estate apps, and single-button games. Just like with every other App Store, the initial release was flooded with junk apps for digital fireplaces and "premium" screensavers.
Now the store is focused on entertainment apps for video, like YouTube, Hulu, Netflix, and Amazon. tvOS 13 introduced Apple Arcade, which resides in the App Store and the Home Screen too.
The addition of game controller support like PS4's Dualshock 4 and Xbox One's Elite controller made game developers more interested in the platform. While the install base of Apple TV is not quite as high as other home consoles like the Playstation, some game developers could bring their games to the platform to take advantage of Apple's higher-spending users.
Apple introduced the idea of "Universal Apps," which let developers target the iPhone, iPad, Apple Silicon Macs, and Apple TV with the same code bundle.
Siri
The Siri Remote for the Apple TV is the included input device for the Apple TV. It consists of a touchpad and gyroscopes to allow for multiple input options for games and navigating apps.
Siri is the brains behind the Apple TV's universal search and speech-to-text input. The remote has been met with some controversy about its touchpad and symmetrical design, although its functionality covers all the basics.
When a user wants to locate a movie or TV show, there is a dedicated Siri button on the remote that will search all installed apps. Siri does not have a voice on the Apple TV, instead responding with text on the screen.
Siri can control content when viewing media with the following commands:
"What did they say?"
"Skip ahead"
"Who is in this movie?"
"Turn on subtitles"
"Reduce loud sounds"
"Switch to Japanese audio"
Apps can have custom Siri commands too. For example, cable TV apps may let users change the channel by saying, "turn to CNBC."
Multi-User Support
Apple introduced multi-user support in tvOS 13, which allowed simple account switching. This enabled users to access personalized Apple Music and Apple TV Up Next content without disturbing the other's account.
This feature was extended to include Apple Arcade in tvOS 14 so users could resume games they started on other devices on the TV and track Game Center achievements properly.
Apple TV App
The Apple TV app is the center of the tvOS experience. The app surfaces content from all eligible entertainment apps installed on the device and lets users view a universal "Up Next" for watched content. One notable exception to this is Netflix, which allows you to search for content within the Apple TV app, but it doesn't display in Up Next.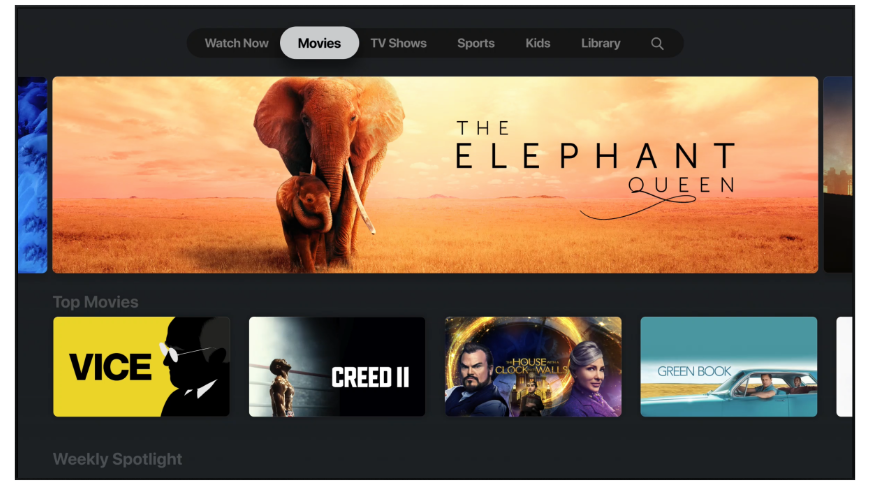 Within the Apple TV App, users can subscribe to specific channels to view content natively within the app. The app is automatically populated with any previously purchased iTunes content and will also play channel content within the app.
These are the available channels within the app:
Apple TV+
HBO (Grandfathered in)
Starz
CBS All Access
Showtime
Epix
Cinemax
A&E Crime Central
Acorn TV
Arrow Video Channel
BET+
Brit Box
Comedy Central Now
Curiosity Stream
Eros Now Select
Hallmark Movies Now
History Channel Vault
IFC Films Unlimited
Lifetime Movie Club
Moonbug Kids
MTV Hits
Mubi
Nick Hits
Noggin
Pantaya
PBS Living
Smithsonian Channel Plus
Shudder
Sundance Now
Urban Movie Channel
Up Faith & Family
Tastemade
Topic
Users who subscribe within the app will have an integrated experience that never leaves the app. Other apps can tap into Up Next and Universal Search but will be launched within their respective apps, like Hulu.
HomeKit
The Apple TV is a HomeKit hub but does not have a dedicated Home app. By acting as a hub, it allows users to operate devices when not connected to their home network. Hubs also process more intensive tasks locally, like routines and scenes, rather than relying on HomeKit devices to do so.
Apple introduced new security-camera features on tvOS 14. When a compatible camera is alerted, it can show the feed in a PiP view on the connected TV screen. Camera feeds can also be accessed within Control Center.
Aerial Screensavers
Apple implemented screensavers recorded with high-quality equipment to show off 4K HDR content when idle. These are called Aerial Screensavers and can be set to automatically download new screensavers as they are made available.
tvOS Updates
Apple doesn't often change much about its TV platform. Typical updates include a new range of screensavers and a slight UI alteration to match changes made in iOS.
2020
tvOS 14 updates included:
4K HDR YouTube video support
Better system-wide Picture-in-Picture support
Audio Sharing for H1 equipped headphones like AirPods
AirPlay support for 4K video
New Control Center with HomeKit controls
Support for Microsoft Elite 2 and Adaptive Xbox One controllers
2019
tvOS 13 updates included:
Dualshock 4 and Xbox One controller support
New underwater screensavers
Apple Arcade introduced
Picture-in-Picture support added
Multi-user support
Apple Music lyrics are shown in real-time
2018
tvOS 12 updates included:
Redesigned TV app
Siri support in third-party remotes
New Ariel Screensavers
Password AutoFill when using Remote app
Zero Sign-On for cable providers
Dolby Atmos support
2017
tvOS 11 updates included:
Automatic conversion of HD iTunes movies to 4K where possible
HDR support with HDR10 and Dolby Vision
AirPods quick switching added
Home Screen sync
HEVC and HEIF support
AirPlay 2 support
2016
tvOS 10 updates included:
Updated TV app
Single Sign-On for cable TV apps
HomeKit control via Siri
iOS handoff of text entry
Music UI update
Notification badges added
Light mode and dark mode
2015
Dictation via the Siri Remote in text fields
iCloud Photo Library
App organization with folders
Third-party game controllers
Modernized app switching
The third-generation Apple TV ran a modified version of iOS, and developers had to submit apps in a specific way to get access to the operating system. This meant that users only had a few streaming apps to choose from and no ability to add more, and developers had to conform to Apple app design to add apps.
Apple moved to a dedicated operating system called tvOS for Apple TV 4. This move brought the Apple TV up to a fully supported platform with apps and an App Store.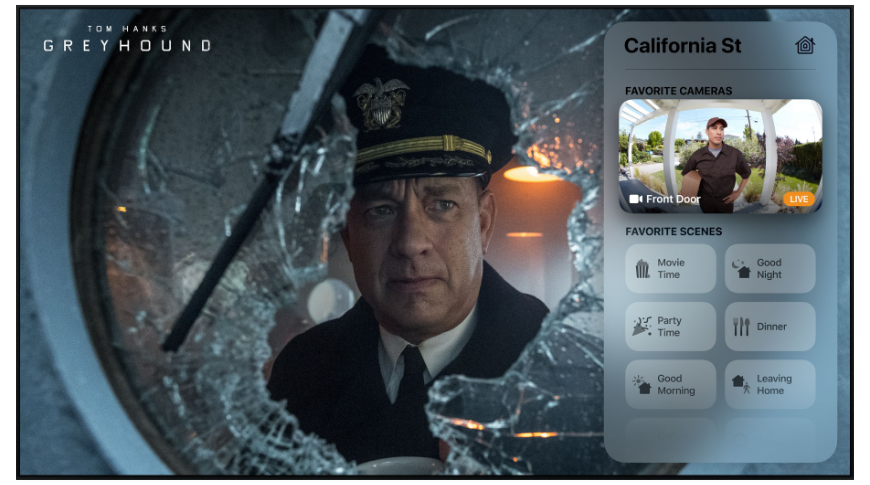 Apple fought to have its Siri Remote be the primary, if not only, controller for the Apple TV. Gaming on the device never quite recovered from Apple's insistence that all games be playable with the Siri Remote.
While Apple has since reversed this rule and added Apple Arcade, complex games like Grand Theft Auto and Final Fantasy have never made it to the platform despite being on Android TV devices.
Apple has yet to make any changes to tvOS to truly make it the future of entertainment as they envision it, but they have not abandoned the platform either. New changes in hardware and a new focus on Apple Arcade may make developers and customers alike return to the TV ecosystem.