Apple Watch Magnetic Charging Dock now on sale at Apple Stores for $79 [u]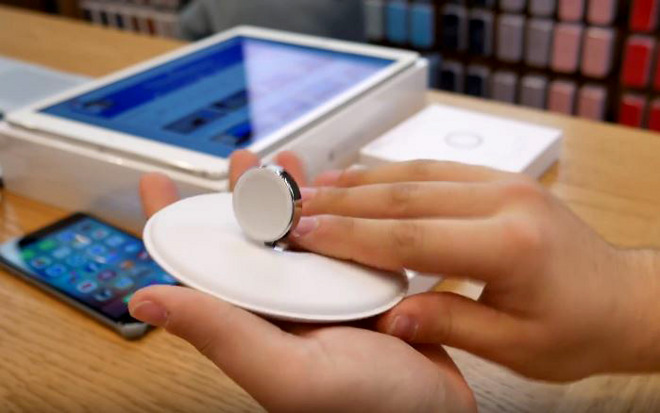 AppleInsider may earn an affiliate commission on purchases made through links on our site.
Having only been leaked a day prior, the official Magnetic Charging Dock for the Apple Watch was already on sale at some Apple Stores on Wednesday, and has now arrived at the U.S. online store. [Updated with pricing]
A video posted to YouTube, or instance, shows the product being unboxed and tested at a German Apple Store. As anticipated in the leak, the accessory costs 89 euros ($95).
A tip received by AppleInsider, meanwhile, suggests that the device is on sale at the Covent Garden Apple Store in London for £65 ($99).
The dock is disc-shaped with a magnetic charging ring in the middle. Although a Watch can just be laid flat over the disc, the ring will also pop out to allow charging a Watch on its side, triggering watchOS 2's Nightstand mode.
It's not yet clear if the accessory is available at any American retail outlets. It is, however, absent from Apple's U.S. online store.
Apple's dock comes nearly seven months after the launch of the Watch. Third-party options have available the entire time, but have generally relied on threading the Watch's bundled charging cable, and often don't support Nightstand mode.