Latest iPhone 6s ads highlight hardware and 'Hey Siri' feature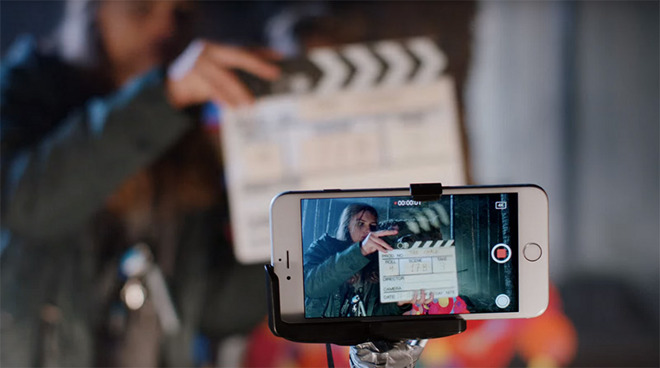 AppleInsider may earn an affiliate commission on purchases made through links on our site.
Apple continued its iPhone 6s commercial campaign on Tuesday by airing a pair of ads focusing on the handset's hardware capabilities and iOS 9's "Hey Siri" functionality.
The first commercial, "Ridiculously Powerful," is a minute-long spot that delves into the new iPhone's feature set, with special attention paid to processing power and onboard sensors. Driven by Apple's A9 SoC and backed by a huge selection of apps, iPhone 6s and 6s Plus are the most capable smartphones to come out of Cupertino.
iPhone's iSight camera gets a good amount of airtime as Apple shows off the handset's video making prowess, which leads into a cameo from actor/director Jon Favreau.
The ad also touches on features like 3D Touch, Bluetooth connectivity, graphics processing, onboard accelerometer and gyroscope sensors, third-party accessories and, of course, apps.
The second commercial touts with "Hey Siri," the always-on iPhone 6s feature that lets users call up Apple's Siri virtual assistant by name. Limited to the latest iPhone hardware, "Hey Siri" relies on the specialized M9 motion coprocessor to continuously monitor background noise for the user-specific voice trigger.
To show off Siri's abilities, Apple runs through a few sample scenarios like querying the assistant for restaurant recommendations and controlling Apple Music. Actress Penelope Cruz makes an appearance, invoking Siri to help solve a crossword clue.
Apple previously featured "Hey Siri" in a comedic spot starring Bill Hader.
Both commercials feature voiceover work by Lake Bell and come with a tagline reading "The only thing that's changed is everything." Despite the obvious hardware improvements iPhone 6s has over last year's model, not the least of which being force-sensitive 3D Touch input, Apple is pushing hard to overcome the "s" upgrade stigma. The company has traditionally labeled mid-cycle updates with the "s" badge, saving number designation updates for biennial design refreshes some consumers associate "real" change.