Apple programming language Swift goes open source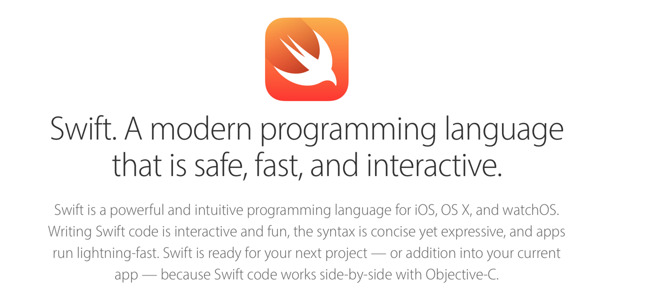 AppleInsider may earn an affiliate commission on purchases made through links on our site.
Apple's software team has officially made Swift, its proprietary iOS and OS X development software, open source and available for modification by all developers, via the new website Swift.org.
By open-sourcing Swift, developers can begin to use the language for their own purposes and go beyond OS X, iOS and watchOS apps, which could lead to rapid expansion of its use and functionality in software development.
Apple previously announced at its WWDC 2015 conference that Swift would go open source and available for Linux this year.
Apple has posted new information about the language and the open source project to Swift.org, along with extensive documentation and instruction for new users on how to begin programming for the language.
Swift was conceived by Chris Lattner, senior director of Apple's Developer Tools Department, in 2010. It was officially announced by Apple at a 2014 developer conference. According to Lattner's website, Swift took inspiration from "Objective-C, Rust, Haskell, Ruby, Python, C#, CLU, and far too many others to list."
Swift will be open source under an Apache license, which allows developers the ability to use the software for any purpose and to distribute their own modified versions of the software without paying royalties to Apple.