Apple Stores expand high-end audio offering with Devialet Phantom 'implosive' speakers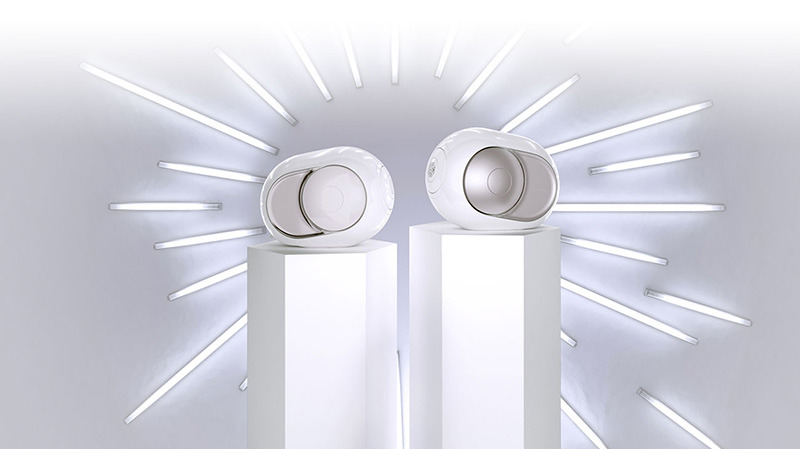 AppleInsider is supported by its audience and may earn commission as an Amazon Associate and affiliate partner on qualifying purchases. These affiliate partnerships do not influence our editorial content.
High-end French audio firm Devialet on Tuesday announced immediate availability of its highly acclaimed, just-under-$2,000 Phantom Implosive Sound Center at select U.S. Apple Stores, with wide availability to follow in 2016.
At a respective $1,990 and $2,390, Devialet's 750-watt Phantom and 3,000-watt Silver Phantom speakers are the second and third most expensive speakers in the Apple Store's current lineup, coming in behind Bang & Olufsen's BeoPlay A9 floor-standing unit. The biomorphic white pods could be worth the price of admission, however, enjoying accolades from industry heavyweights including The Absolute Sound, SoundStage! and Rolling Stone, as well as various tech publications like Wired.
"Working with Apple has been a long-held dream of Devialet since the company's inception," said Devialet CEO Quentin Sannié. "Like Apple, our products share the same level of category re-invention, premium quality and the acclaim of consumers worldwide, all fueled by a high degree of investment: $25M and 10 years of R&D just for Phantom."
Phantom is packed with cutting edge technology borrowed from the brand's high-end amplifier lineup. One such platform, dubbed Analog/Digital Hybrid (ADH) Intelligence, combines Class A (analog) and Class D (digital) amplification to reproduce undistorted sound at high volumes. Other enhancements include Speaker Active Matching (SAM) tech that optimizes driver response in real time and a unique spherical architecture for even sound dispersal.
A single Phantom is sufficient for room-filling omnidirectional sound, but users can pair them up for stereo output using Devialet's separate Dialog audio router. Up to 24 Phantoms can be chained together.
Inside the ABS shell is a Kevlar second skin, aluminum core and advanced circuitry like a 24-bit Texas Instruments PCM1798 DAC that feeds two high-excursion coaxial drivers and a single tweeter. Apple iPhone and Mac owners can connect over Wi-Fi with Devialet's Spark app, a physical TOSLINK optical input or via Bluetooth. A2DP and AVRCP profiles are supported, as are aptX, AAC and SBC audio codecs. Supported audio formats include HE‑AAC (V1), AAC (16 to 320 kbit/s), WMA, WMA lossless (16 bit only), MP3 (16 to 320 kbit/s), MP3 VBR, Apple Lossless, AIFF, WAV, FLAC, OGG, VORBIS.
In time for the holiday shopping season, Phantom will be available at 13 brick-and-mortar Apple Stores across the U.S., including outlets in New York, Los Angeles and San Francisco.
AppleInsider will be taking a closer look at Phantom in a review to be published later this week.