Pandora, others must raise streaming royalties after Copyright Royalty Board ruling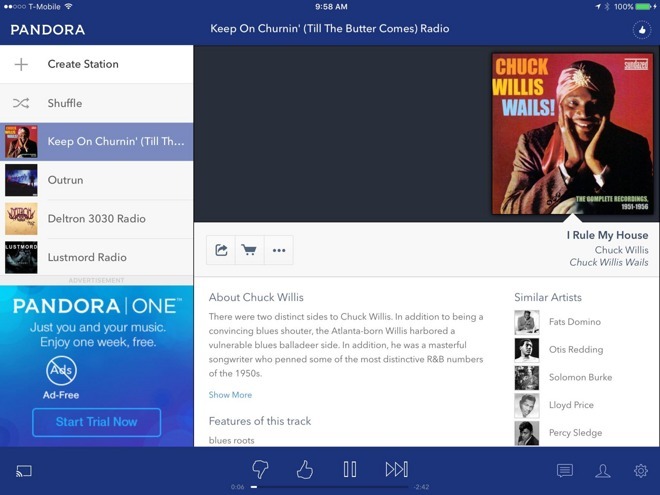 AppleInsider may earn an affiliate commission on purchases made through links on our site.
The federal Copyright Royalty Board on Wednesday ruled to raise Internet radio royalty rates, meaning companies that offer ad-supported services, such as Pandora and iHeartMedia, will have to pay out increased per-stream fees starting next year.
Beginning Jan. 1, 2016, companies relying on mandatory government-issued licenses to deliver free, ad-supported music via the Web will pay what equates to 17 cents per 100 streams of a given song, reports The Wall Street Journal. The rate jumps to 22 cents per 100 listens logged by paying subscribers, according to the federal Copyright Royalty Board decision.
The new rates are valid through 2020 and can be adjusted for inflation.
Pandora, America's largest streaming music service, currently pays out 14 cents for every 100 free listens, or a 25 percent slice revenue, whichever is greater. Despite a position at the head of the U.S. Internet radio market, the company is struggling to reach profitability and has therefore paid out on the per-spin model.
Pandora also pays 25 cents per 100 streams on its $5 monthly Pandora One subscription service.
SoundExchange, which collects royalties for labels and individual artists, was pushing for higher rates between 25 cents and 29 cents for every 100 plays, or 55 percent of a streaming service's revenue.
"This is a balanced rate that we can work with and grow from. The new rate structure will enable continued investment by Pandora to drive forward a thriving and vibrant future for music," said Pandora CEO Brian McAndrews.
As the popularity of free streaming and on-demand music products increases, so does the friction between companies offering said services and record labels. Content owners and creators are fighting for higher rates as they see their business models further eroded by digital distribution trends, a revolution sparked by Apple's iTunes.
While slow going, there is progress being made toward amicable terms. For example, Pandora recently settled a battle over royalties for older music in October, agreeing to pay $90 million to major record labels including Capitol Records, Sony, Universal Music Group, Warner Music Group, and ABKCO Music.
The publication suggests Pandora will likely pursue contracts directly with record labels to expand its reach internationally as it takes on services like Spotify. The new rates dictated by the Copyright Royalty Board could play a factor in said negotiations.