Apple TV universal search integration expands to PBS and PBS Kids, suggests API now open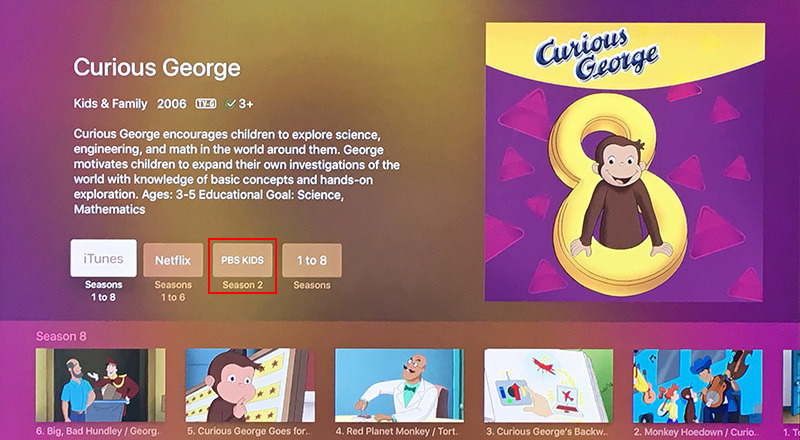 It appears Apple has made good on promises to roll out developer access to Apple TV universal search APIs, as tvOS now includes deep content links from both the PBS and PBS Kids apps.
The change was spotted on Saturday by AppleInsider reader Erik, who discovered a Siri query for "Curious George" surfaced the PBS Kids app as a viewing option alongside the usual iTunes and Netflix choices. A separate search for "Antiques Roadshow" returned a results page showing streaming availability through the PBS app, a separate title from PBS Kids.
Universal search is a tentpole feature for the fourth-generation Apple TV, a set-top box capable of streaming movies, TV shows, music and more from a variety of apps. With ties to Siri, universal search allows users to find content from multiple sources by typing in or speaking certain search terms. For example, a query for a popular TV series like "Scandal" returns a dedicated results page with matches from all apps and services through which that content is available, in this case iTunes, Netflix and Hulu.
Initially, universal search functionality was limited to iTunes, Netflix, Hulu, Showtime and HBO.
A month before fourth-gen Apple TV units hit store shelves, Apple CEO Tim Cook said the company would open universal search APIs to third-party developers in the near future, but declined to comment on an exact time window.
"I think that many, many people will want to be in that search," Cook said. "And that's great for users. Think about your experience today. Even if you're fortunate enough to have the content you want to watch in an app, you sometimes don't remember exactly where that show is, so you're going to Netflix or Hulu or Showtime. You shouldn't have to do that. It should be very simple."