Apple CEO Tim Cook earned $10.3M in 2015, Angela Ahrendts highest paid exec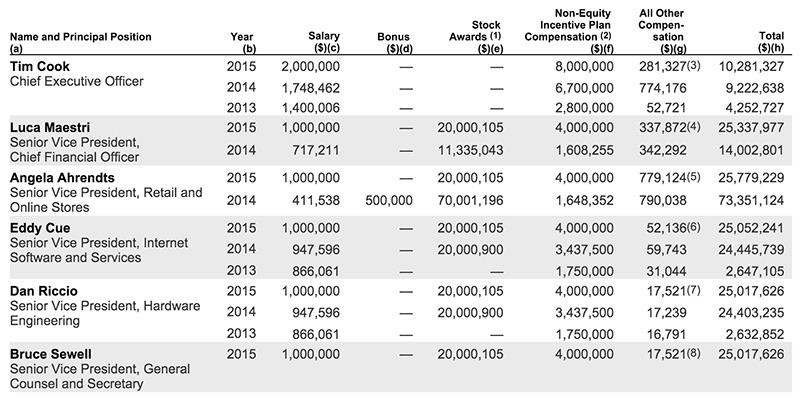 Executive salaries are among the tastier tidbits in Apple's annual proxy statement, and this year's filing revealed CEO Tim Cook to have received $10.3M in cash and stock for 2015, while SVP of retail Angela Ahrendts was paid $25.8 million.
Cook's compensation is actually up from 2014, when the Apple chief was paid $9.2 million in salary and stock incentives. For 2015, Cook's salary was bumped to $2 million, according to Apple's 2016 proxy statement.
In addition to his yearly wages, Cook currently owns $57.7 million in stock and restricted stock units currently worth about $479 million. The performance-based RSUs are set to vest in incremental installments from August 2015 to August 2021.
Ahrendts led all reporting Apple executives with a $1 million base salary, $20 million in stock, $4 million stock incentive and relocation expenses in the amount of $474,981, among other considerations. The final tally is down from Ahrendts' massive 2014 compensation of $73.4 million, paid out to woo her away from Burberry.
Apple's other reporting execs each earned $1 million in base salary and $20 million in stock awards. CFO Luca Maestri took home $25.3 million, SVP of Internet Software and Services Eddy Cue netted$25.1 million, while SVP of Hardware Engineering Dan Riccio and General Counsel Bruce Sewell were paid an identical $25 million.