Apple CEO Tim Cook doubled pay to $9.2M in 2014, Angela Ahrendts led execs with $73.3M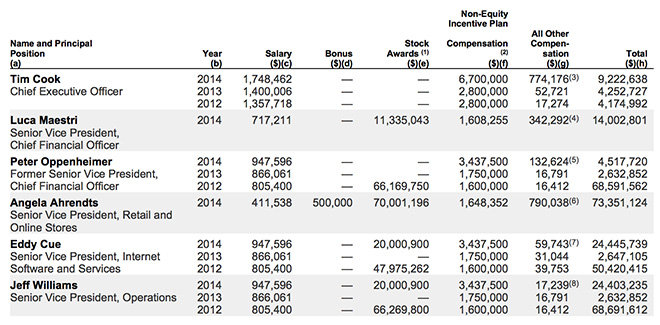 The yearly earnings of Apple's board members was revealed in a filing with the U.S. Securities and Exchange Commission on Thursday, including CEO Tim Cook who received compensation of over $9.22 million in 2014, more than doubling his pay from 2013.
According to the document, Cook's $9.22 million in earnings includes $1.75 million salary, $6.7 million in non-equity incentives and other company contributions. Apple notes Cook was paid out nearly $57,000 in vacation cash-out and accrued almost $700,000 in security expenses.
By comparison, Cook's salary in 2013 amounted to $1.4 million, while incentives bumped overall earnings to $4.3 million. Those numbers don't reflect $69.6 million in vested stock options contingent on company performance granted that year.
When he took over as CEO for late Apple cofounder Steve Jobs in 2011, Cook received a $378 million payout package, as well as a $372.6 million one-time stock award scheduled to vest through 2021. Currently, 3.36 million shares of the 2011 award are not vested and have a market price of $338.52 million.
As for other Apple executives, SVP of Retail Angela Ahrendts, who was hired on in October 2013, was allotted $73.35 million, a bulk of which came from $70 million stock award. The retail chief's salary stood at just under $412,000 for 2014, an amount surpassed by a $500,000 bonus. Apple also paid about $458,000 in relocation expenses and more than $324,000 in associated tax gross up for taxable relocation amounts.
Eddy Cue, Apple's head of software and services, earned $24.45 million in 2014, most of which came from a stock award amounting to $20 million, while SVP of Operations Jeff Williams earned $24.4 million with an identical stock award.
Finally, Apple CFO Luca Maestri, who officially took over for Peter Oppenheimer last May, brought in $14 million, most of which coming from a stock award of $11.34 million. His predecessor earned $4.52 million over 2014.