Real world iPhone 6s adoption data contradicts Apple supplier channel check rumors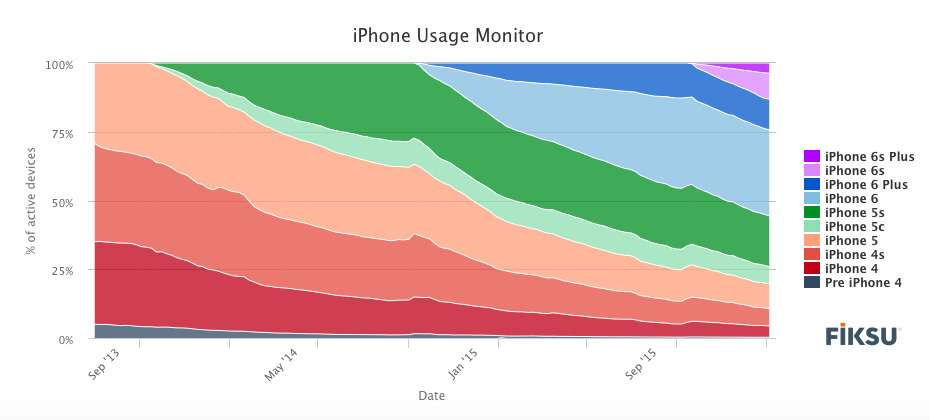 The product mix of iPhone models in Apple's real world installed base of users shows smooth adoption of iPhone 6s models and no evidence of a decline in demand that would require unexpected production cuts. This publicly available data severely undercuts the supply chain rumors supporting a narrative of "Peak iPhone" and reactionary order slashing.
Data reported by Boston-based mobile marketing firm Fiksu, which tracks usage analytics among the most popular 50 mobile apps including Facebook and Twitter (as noted by reader Jim Neil via Twitter), shows that iPhone 6s and 6s Plus have ramped up to account for more than 13 percent of the iPhone installed base within the first 100 days since their release.
That's less than the percentage attained by last year's iPhone 6 models at the same point (which had reached about 21 percent), but that's expected because the total installed base of iPhones this year is much greater. Over fiscal 2015, Apple sold over 231 million new iPhones, massively expanding the pool of iPhone users.
This year Apple's newest 6s models are selling next to last year's 6 models with a similar appearance at a $100 discount. However, the bulk of iPhones sold since the launch of iPhone 6s appear to be Apple's latest and newest model, as the growing adoption ratio of 6 and 6 Plus abruptly flattened out at the launch of iPhone 6s last fall. While the older 6/6 Plus models continued to sell, the increasing size of the installed base kept those earlier models' "percentage of all users" static.
Since the 6s launch, the percentage of all iPhone users with a 6/6 Plus has actually gone down slightly, indicating that the increase in new 6s buyers is enough to obscure the smaller growth in new sales of last year's phone, even as the newest 6s/6s Plus models expanded their relative share by 13 percentage points.
There is zero indication that iPhone 6s models have tapered off or suddenly plunged; the data shows a smooth increase in sales since its launch.
As a percentage of the installed base, the iPhone 6s adoption ramp should be expected to be less than iPhone 6, due to the much larger size of today's installed base. However, the combined adoption of the new 6s and 6s Plus are consistently higher than the level seen in iPhone 5s two years (and 400 million iPhone sales) ago.
That indicates that as a premium priced model and a less obviously new "s" model version, the 6s family has incited more sales and switching than the earlier 5s model, which similarly competed against a $100 cheaper, previous generation of itself.
With the years of data Apple has on upgrade rates and switcher behaviors, this fails to support the idea that Apple was forced to dramatically shift its orders in response to slack demand for its new phone and instead indicates that Apple's 6s launch has been nothing but typical, and inline with Apple's previous performance.
On the other hand, iPhone 6 and 6s models combined have now reached about 55 percent of the iPhone installed base, essentially identical to the the proportion of users who had upgraded to either an iPhone 6 or 5s/5c model at this same point a year ago. That means that upgrade cycles have remained about the same despite the huge influx of new iPhone users, a metric that highlights the consistent cash machine tied to Apple's annual refresh cycle.
Android has slower adoption patterns
In stark contrast to the smooth annual upgrades among iPhone users, Fiksu's data on the Android installed base shows a much more chaotic and contentious rollout of flagship models, despite being dominated by one company. It also highlights the shrinking ratio of relevance of Samsung's primary premium flagship model among users.
While the Galaxy 3 accounted for almost 19 percent of Android's installed base at the beginning of 2014 (a year and a half after it launched) in Fiksu's data, Samsung's Galaxy S4 successor only managed to grab just over 12 percent over the next year, and its Galaxy S5 hasn't yet reached 9 percent representation.
This indicates that Samsung's sales are much less cyclical than iPhones. Android users also appear be sticking with older models for much longer (or are more likely to buy older models), as usage data shows the adoption rate of the now three and a half year old Galaxy S3 remains currently tied with the S4 and S5.
Apple's ability to entice users to upgrade— and to choose its newest, most expensive models they do— is a primary reason why it now accounts for 94 percent of mobile industry profits.