Apple now inhaling 94 percent of global smartphone profits, selling just 14.5 percent of total volumes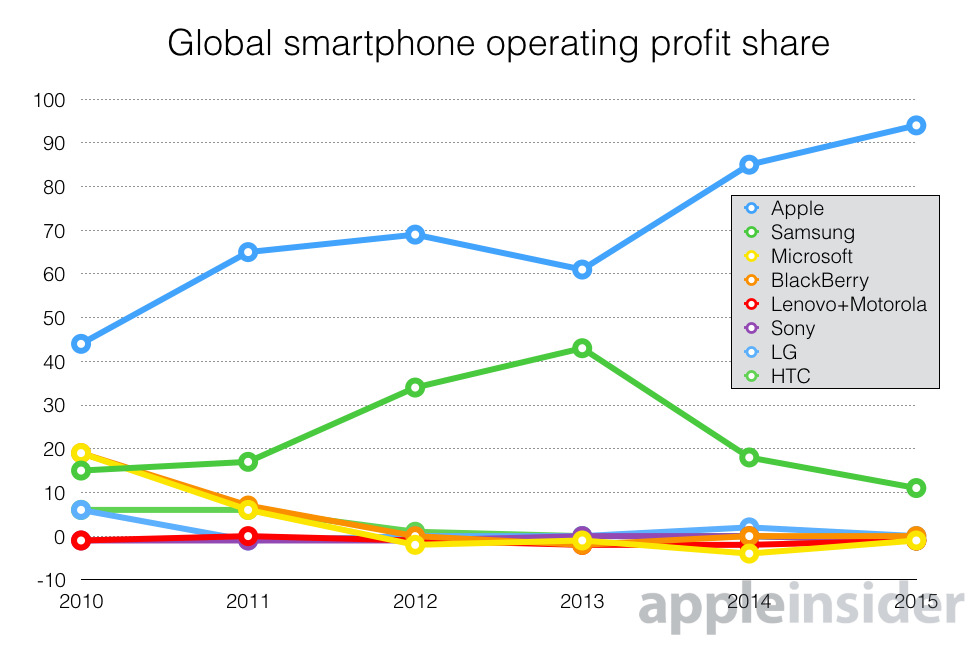 Apple's share of total smartphone industry profits grew to 94 percent during the September quarter, up from 85 percent one year ago.
The iPhone maker's overwhelming share of all smartphone income comes despite Apple being second in smartphone volume shipments to all vendors collectively selling devices running some form of Android software.
According to Canaccord Genuity research, Samsung, the largest Android licensee by far, took a distant 11 percent share of total operating income. Those numbers exceed 100 percent because most other phone makers reported negative operating income.
Canaccord analysts Mike Walkley blamed some of the losses suffered by HTC, BlackBerry, Sony and Lenovo (which now owns Google's former Motorola subsidiary) on their inability to compete in the market for higher end phones priced at more than $400.
Apple earned its overwhelming share of profits despite producing just 14.5 percent (48 million) of the smartphones sold in the quarter. Samsung shipped an estimated 81 million units in the same quarter, accounting for 24.5 percent of the total.
The average selling price of iPhones in the quarter was $670 driving 37 percent operating margins, while Samsung's ASP was just $180.
While some analysts are predicting that Apple has nowhere to go but down, Apple's chief executive Tim Cook noted it the company's September earnings report that "momentum for iPhone 6 and iPhone 6 Plus remained very strong across the quarter, and we established a new launch record for iPhone 6s and iPhone 6s Plus near the end of the quarter." "We recorded the highest rate on record for Android switchers last quarter at 30 percent" - Tim Cook
He added, "we exited the quarter with demand for our new iPhones exceeding supply, but we've made good progress with our manufacturing ramp in the initial weeks of October."
In response to a question on future guidance from analyst Katie Huberty of Morgan Stanley, Cook answered, "We believe that iPhone will grow in Q1, and we base that on what we're seeing from a switcher point of view. We recorded the highest rate on record for Android switchers last quarter at 30 percent. We also look at the number of people that have upgraded, that were in the install base prior to iPhone 6 and 6 Plus, and that number is in the low 30 percentages, so we feel like we have a very open field in front of us."