Apple bucks downward PC market spiral, was lone manufacturer to see growth in 2015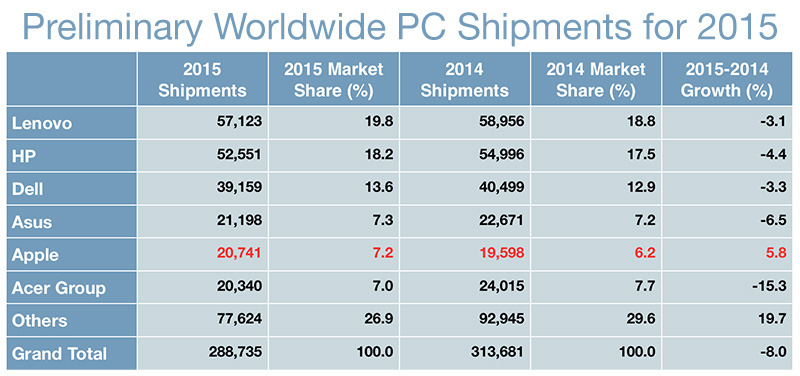 The latest statistics from market research firm Gartner show Apple as the lone top-five PC vendor that grew worldwide shipments from 2014, bucking an negative market trend that saw shipments decline for the fourth consecutive year.
Apple took the No. 5 spot for 2015, shipping 20.7 million Macs for a 7.2 percent share of the market, up 5.8 percent from its performance in 2014. As it did for the quarter, Apple ousted Acer on the year as the Taiwanese vendor suffered a 15.3 percent decline.
Lenovo was in the top spot for 2015 with 57.1 million units shipped, good for a 19.8 percent marketshare. The company's growth contracted 3.1 percent, however, in line with overall industry headwinds.
HP placed second with 52.6 million PC shipments for 18.2 percent of the market, down 4.4 percent on the year. Dell and Asus rounded out the top five with 39.2 million and 21.2 million units shipped, taking a respective 13.6 percent and 7.3 percent slice of the pie. Dell was down 3.3 percent in 2015, while Asus contracted 6.5 percent.
"In 2015, local currency devaluation also played a key role in the market conditions," said Kitagawa. "EMEA, Latin America and Japan faced a major impact from the devaluation, showing double-digit declines in 2015. In contrast, the U.S. and Asia/Pacific experienced minor declines of almost flat to low single-digit declines as the currency issue did not affect these regions."
For the final calendar quarter of 2015, Gartner estimates Apple to have shipped 5.7 million Macs for a 7.5 percent share of the worldwide market, up 2.8 percent from the fourth quarter of 2014. With the performance, Apple replaced Acer for fifth place.
Lenovo maintained its worldwide lead with 15.4 million units shipped during the fourth quarter to retain 20.3 percent of the worldwide market, down 4.2 percent year-over-year. HP shipped 14.2 million PCs for an 18.8 percent marketshare, down 8.1 percent from last year. Dell and Asus followed with 10.2 million and 6 million unit shipments, down 5.1 percent and 3.2 percent, respectively. Acer rounded out the top-six with 5.3 million unit shipments for a 7 percent share of the market, a huge 11.2 percent contraction year-over-year.
"The fourth quarter of 2015 marked the fifth consecutive quarter of worldwide PC shipment decline," said Mikako Kitagawa, principal analyst at Gartner. "Holiday sales did not boost the overall PC shipments, hinting at changes to consumers' PC purchase behavior.
In the US, Apple placed third in quarter four with 2.2 million shipments and 12.8 percent of the market, up 6.5 percent year over year. Fourth-place Lenovo shipped 2.1 million PCs and exhibited the highest growth rate of 21.1 percent. US market leaders HP and Dell shipped 4.6 million and 4.1 million units for a respective 27.1 percent and 24.5 percent of the market. HP's quarterly performance declined 8.4 percent year over year, while Dell dipped 1.5 percent.