2016 expected to be a big year for Apple's MacBook lineup, upgrades to arrive in coming months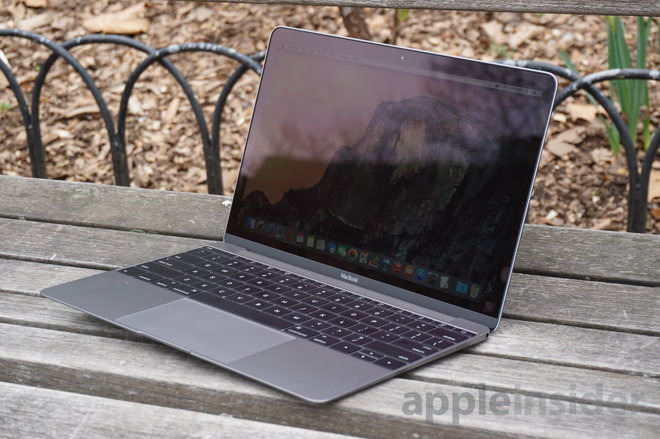 Continued growth for the MacBook lineup — particularly in enterprise markets — will be a bright spot for Apple in 2016, further bolstered by an update in the first half of the year, according to analyst Ming-Chi Kuo.
Kuo, of KGI Securities, believes the MacBook lineup could lead the way for Apple in terms of growth this year. He said Apple's notebook lineup has seen "solid growth" among businesses, and he expects sales will accelerate with upgrades likely to arrive by June.
Demand for newly upgraded MacBook models will also benefit Apple suppliers SZS and Casetek, Kuo said. His forecasts were revealed in a note to investors on Sunday, a copy of which was obtained by AppleInsider.
Though new MacBooks are apparently in the works, little is known about the anticipated upgrades. It's likely that Apple is waiting on new "Skylake" processors from Intel for its next-generation notebooks.
The Skylake platform is Intel's follow-up to Broadwell, and will offer the usual performance improvements — boosting CPU speeds by 10 to 20 percent, and integrated graphics chips by 16 to 41 percent — but also continue a trend towards efficient power use, thanks to smaller 14-nanometer architecture. In laptops, switching to Skylake could add as much as 30 percent more battery life.
Kuo didn't offer any specifics on what other upgrades Apple's new notebooks might offer, nor did he indicate which of the company's lineup will see updates. But Sunday's report was the well-connected insider's first indication that new MacBooks will arrive in the first half of the year.
One report published last November projected that Apple will introduce a revamped Macbook Air lineup at its Worldwide Developers Conference in 2016. It was said that Apple is planning to extend the form factor to include a larger 15-inch model potentially in lieu of an 11-inch version.