Apple merges iTunes Radio channels into Apple Music, Beats 1 now lone free-to-stream service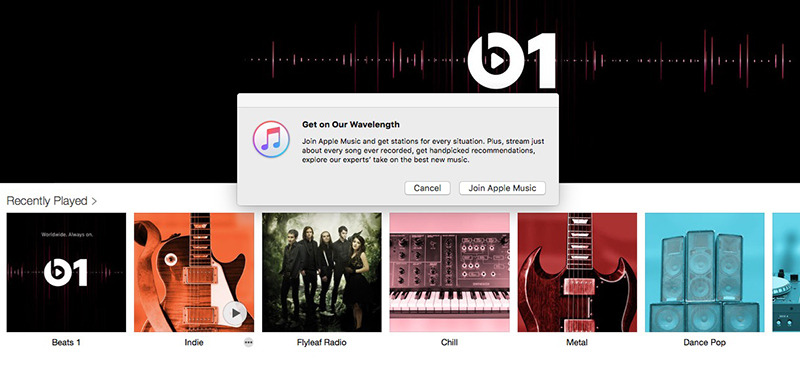 As announced earlier this month, Apple on Friday discontinued free access to ad-supported iTunes Radio channels, folding the content into Apple Music as part of a broader push to grow adoption of its subscription service.
Today's change in availability marks the first time iTunes Radio has gone behind a paywall since its launch in 2013. An email sent out to Apple Music subscribers earlier in January informed users of the merge, saying Beats 1 would subsequently be marketed as the company's "premier free broadcast."
For non-subscribers, attempts to access iTunes Radio on Mac triggers the pop-up seen above. Titled "Get on Our Wavelength," the window contains a link to sign up for an Apple Music subscription and urges listeners to join Apple Music for curated streaming stations and music from "just about every song ever recorded."
When Apple first announced a shift away from ad-supported channels, BuzzFeed reported the move was linked to the company's decision to withdraw from the mobile ad sales business. That same day, Apple informed developers of plans to shut down the iAd App Network on June 30.
iTunes Radio launched in 2013 as a free service for iOS 7, Mac, Apple TV and Windows PCs. Like similar offerings from Pandora, Apple's ad-supported free-to-stream product offered listeners pre-programmed music playlists with limited song skips.