Apple captured 21% of smartphone processors, 31% of tablet CPUs in 2015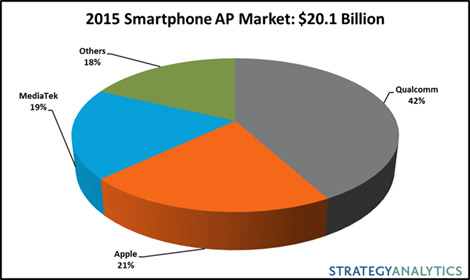 AppleInsider may earn an affiliate commission on purchases made through links on our site.
Although the smartphone and tablet processor markets actually declined year-over-year in 2015, Apple managed to capture large shares of both in 2015 simply manufacturing for its own devices, Strategy Analytics said in data released on Friday.
Apple reportedly controlled 21 percent of the smartphone processor market, which shrank 4 percent to $20.1 billion. That slotted the company in between Qualcomm's 42 percent — down 10 points — and MediaTek's 19 percent.
Qualcomm's Snapdragon processors are used in a large number of smartphones, but the company faced tougher competition in 2015, including some from Samsung which managed to double processor shipments. Intel actually managed 66 percent growth, but still claimed just a 1 percent unit share.
Strategy Analytics noted that 64-bit chips represented a little over half of smartphone processor shipments, and that Qualcomm overtook Apple in this field, presumably owing to the growing prevalence of phone makers wanting the technology. When Apple launched its first 64-bit processor — 2013's dual-core A7, introduced alongside the iPhone 5s — it was also the first 64-bit ARM-based chip to ship in a phone. Others were still 32-bit and often relied on having four or more cores to boost processing power.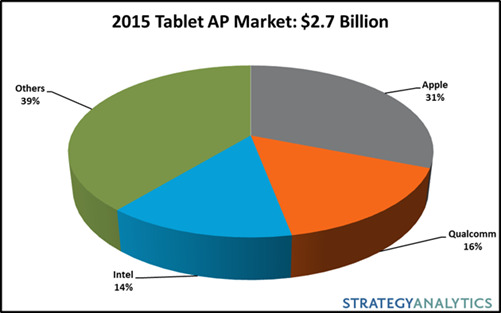 In the tablet realm Apple was by far the market leader in 2015 at 31 percent, reflecting the continued dominance of the iPad. Qualcomm ranked second at 16 percent, while Intel was third with 14 percent, not far ahead of MediaTek. The market as a whole contracted 33 percent to $2.7 billion however, marking the first annual decline for tablet chips.
Strategy Analytics blamed the issue on the popularity of phablets, like Apple's "Plus" iPhones, as well as factors like long tablet replacement cycles. Indeed analysts have linked the iPad's sales decline in the past several quarters to the same causes.