Apple's 9.7" iPad Pro discovered to have 2GB of RAM, half that of 12.9" model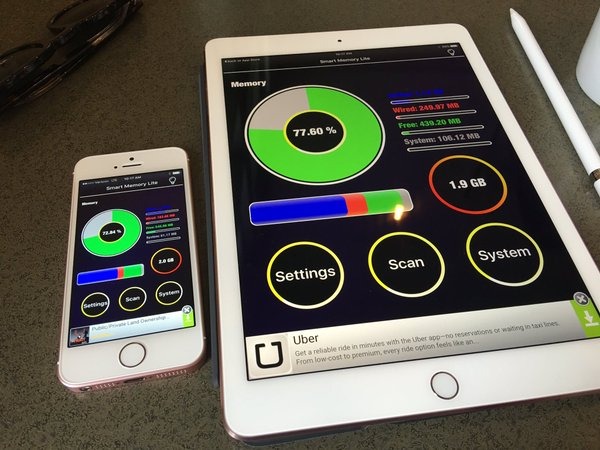 The A9X processor in Apple's 9.7-inch iPad Pro is not only slightly slower, but it also features half the RAM of the larger, more expensive 12.9-inch model, initial tests have revealed.
Benchmarks with the new iPad Pro and the 4-inch iPhone SE were conducted by Matthew Panzarino of TechCrunch, who discovered that both devices feature 2 gigabytes of RAM. The 9.7-inch iPad Pro features a faster A9X processor, while the iPhone SE features the A9 chip.
Notably, with 2 gigabytes on its A9X, the 9.7-inch iPad Pro features the same amount of RAM as its predecessor, the iPad Air 2. While Apple downplays such technical specifications, more RAM enables a number of benefits, including allowing apps and Safari windows to stay open in the background longer. There are costs to more RAM as well, however, such as an impact on battery life.
In a separate test, Pazarino also reaffirmed that the A9X processor in the 9.7-inch iPad Pro runs at a slower speed than the same chip in the 12.9-inch model. AppleInsider was first to note the power disparity earlier Tuesday.
For users who are trying to choose between the 9.7- and 12.9-inch iPad Pro, there's a lot to weigh beyond screen size. In addition to a faster chip and more RAM, the larger version also has a faster USB 3 Lightning port for charging and syncing.
The 9.7-inch model, however, has better cameras, including 12-megapixel iSight camera that matches the iPhone 6s. The display is also revamped with Apple's True Tone technology, which automatically adjusts the screen color based on the user's environment.
Then there's the factor of price: The 9.7-inch model starts at $599 for 32 gigabytes, while the 12.9-inch variant starts at $799 for the same capacity. The 12.9-inch iPad Pro is available now, while preorders for the 9.7-inch version begin Thursday, ahead of a launch next week on March 31.