12.9" iPad Pro remains Apple's fastest tablet, as 9.7" model's A9X chip is underclocked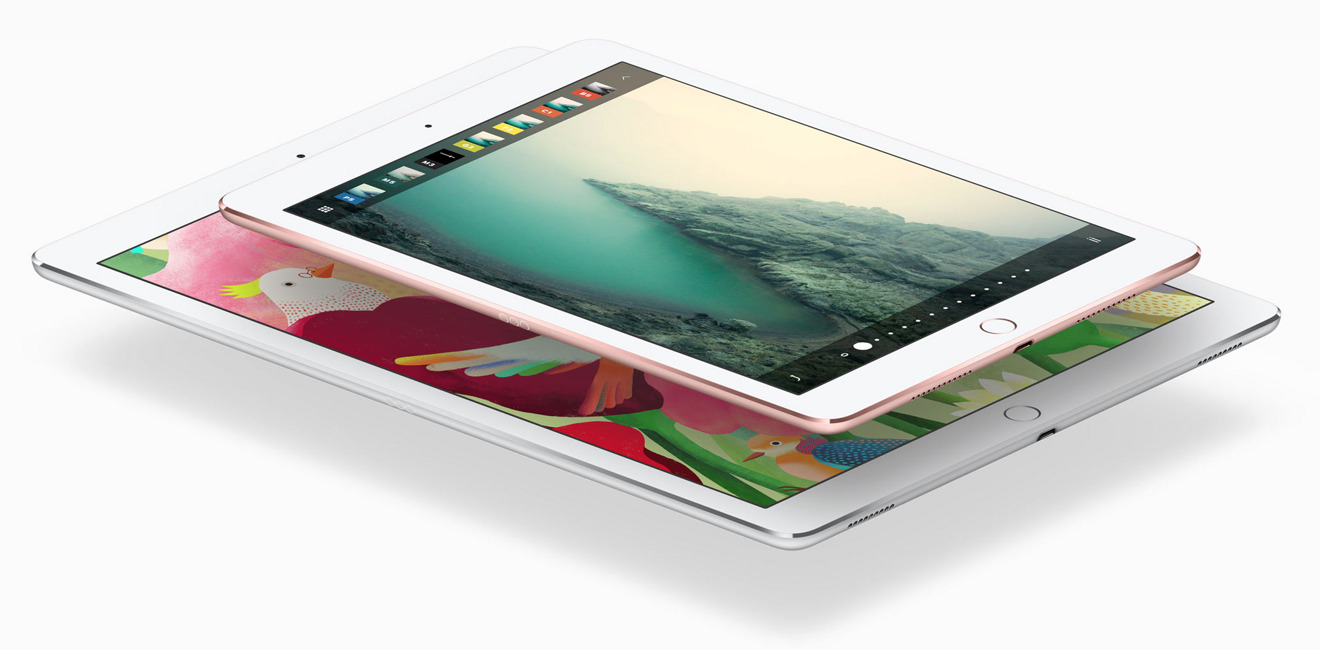 Though the new 9.7-inch iPad Pro features the same A9X processor as its 12.9-inch variant, the two chips don't actually run at the same speed, resulting in slightly more horsepower for Apple's largest tablet.
Apple doesn't like to promote the geekier technical specifications of its devices, particularly the memory and clock speed found in its custom A-series chips. And in unveiling the new 9.7-inch iPad Pro, the company simply said that it features the same A9X-branded chip as the 12.9-inch model.
But in a comparison of the two devices, Apple has quietly revealed that the A9X processor found in the 9.7-inch iPad Pro is actually underclocked to slower speeds.
Specifically, Apple compared the performance of its A9X chips to that of a two-generations-old A7 processor. While the A9X in the 12.9-inch iPro is 2.5 times faster than the A7, the A9X in the 9.7-inch model is slightly slower than that — Â 2.4 times faster.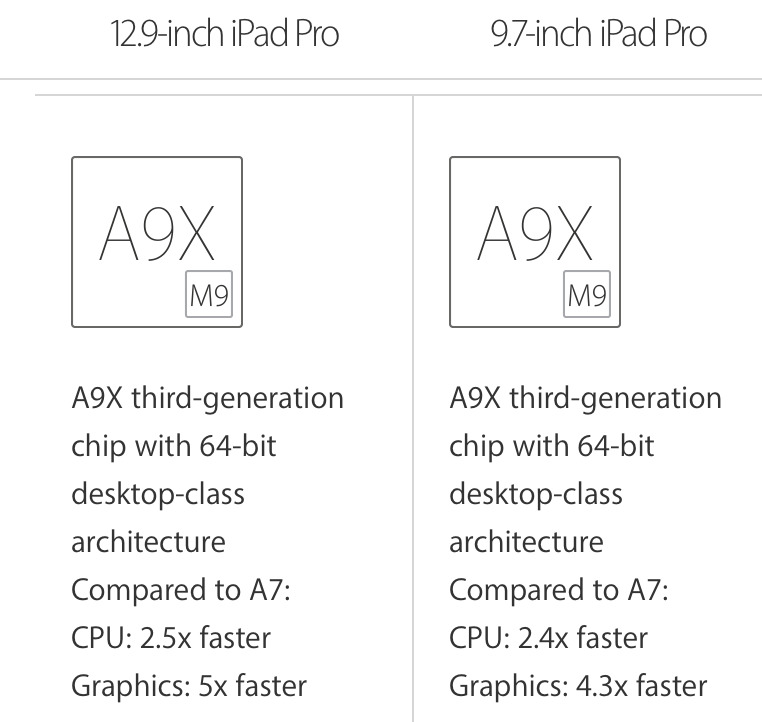 There's an even greater disparity between the two processors when it comes to graphics: The 12.9-inch iPad Pro boasts graphics processing five times faster than the A7, while the 9.7-inch tablet and its A9X processor are 4.3 times faster.
It's possible that battery and heat concerns led Apple to underclock the A9X for the smaller 9.7-inch tablet. With less space to work with, the 9.7-inch iPad Pro must feature a smaller battery and less surface area to dissipate heat from its processor.
Though both iPads are labeled as "Pro," there are a number of trade-offs between the two tablets, in both directions. In another leg up for the 12.9-inch model, its integrated Lightning port has faster charging and data transfer because it is built on the USB 3 specification. The 9.7-inch model features a slower USB 2 Lightning port.
But the 9.7-inch iPad Pro also has a number of advantages over the larger model, most notably a True Tone display that automatically adjusts colors to the user's current environment. The smaller "Pro" also features a 12-megapixel rear camera (and accompanying camera bump) with flash. Even the forward facing camera is higher resolution, with Retina Flash capabilities as well.
Preorders for the 9.7-inch iPad Pro begin this Thursday, and the device will get into the hands of consumers a week later. It starts at $599 for the 32-gigabyte model.