Apple's second wave of 9.7" iPad Pro & iPhone SE launches to start April 4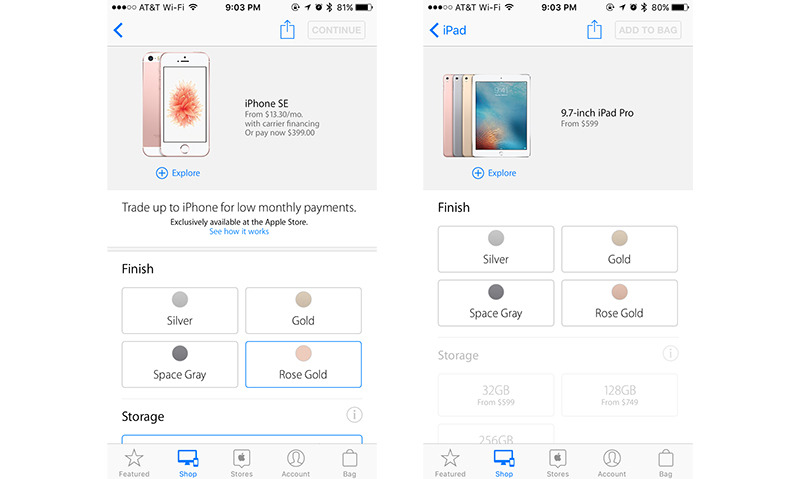 After the new 9.7-inch iPad Pro and 4-inch iPhone SE debut in a handful of major markets this Thursday, customers in the second wave of launch countries apparently will not have to wait long, with Apple gearing up for sales to begin as early as next week.
Preorders in the second wave of territories began on Tuesday, as reported by iPhoneabonnementen.com, which revealed the 9.7-inch iPad Pro will apparently get in the hands of consumers in the Netherlands and other second-tier countries on next Monday, April 4. The iPhone SE is expected to follow a day later, on April 5.
Apple announced last week that the iPhone SE and 9.7-inch iPad Air will be available in "early April" in the second wave of territories. They are:
Albania
Andorra
Austria
Bahrain
Belgium
Bosnia
Bulgaria
Croatia
Czech Republic
Denmark
Estonia
Finland
Greece
Guernsey
Jersey
Hungary
Iceland
India
Ireland
Isle of Man
Italy
Kosovo
Kuwait
Latvia
Liechtenstein
Lithuania
Luxembourg
Macedonia
Maldives
Malta
Monaco
Netherlands
Norway
Poland
Portugal
Romania
Russia
Saudi Arabia
Slovakia
Slovenia
Spain
Sweden
Switzerland
Taiwan
Turkey
UAE
Customers in Macau and Thailand will be limited to Wi-Fi iPad Pro models.
Those will follow the first countries, which receive both devices this Thursday. The initial launch countries and territories are Australia, Canada, China, France, Germany, Hong Kong, Japan, New Zealand, Puerto Rico, Singapore, the U.K., the U.S. Virgin Islands and the U.S. Preorders started last week.
In Europe, the iPhone SE is priced starting at 489 euros for the 16-gigabyte model, and 589 euros for a 64-gigabyte capacity. The 9.7-inch iPad Pro starts at 695 euros for the 32-gigabyte model, 875 euros for 128 gigabytes, and 1,055 euros for 256 gigabytes.
In the U.S., the iPhone SE starts at $399, while the new iPad Pro starts at $599.