Apple releases iOS 9.3.1 to fix Web link crashing bug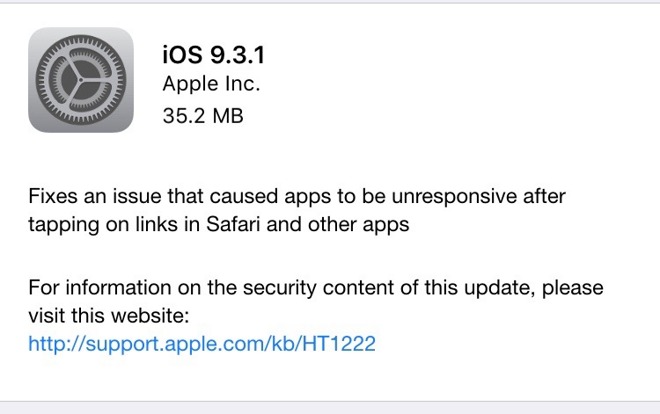 Just a few days after promising to fix a bug that caused major crashing issues on iPhones and iPads, Apple has delivered and released iOS 9.3.1 to address the lingering issue.
iOS 9.3.1 is now available to download through Software Update or via iTunes. According to Apple, the update fixes an issue that caused apps to be unresponsive after tapping on links in Safari and other apps.
Apple had promised on Tuesday that it will fix the bug, which has caused some confusion since it began cropping up last week. The timing led many to believe the problem was associated with iOS 9.3, but it turned out it was an issue associated with a popular app — Booking.com — Â that produced the bug.
Booking.com and a few of its associated apps used an oversized app and associations file that caused tapping on many links to crash across a variety of apps, including Safari, Mail and Messages. Uninstalling the affected apps did not fix the issue, necessitating the release of iOS 9.3.1.
However, the issue was not tied to just iOS 9.3, as users reported experiencing the same crashing bug with Booking.com installed on older releases dating back to iOS 9.0.2. It was just a coincidence that the Booking.com app update caused the crashing around the same time iOS 9.3 was released.
iOS 9.3 also featured an Activation Lock bug that affected older devices, including the iPad Air and earlier and iPhone 5s and earlier. Apple released a new build of iOS 9.3 to address that issue.
Despite these problems, one app analytics firm found this week that iOS 9.3 was actually Apple's most stable release in years. Apteligent's research found that over its first eight days of public release, iOS 9.3 had a crash rate of just 2.2 percent, making it the most stable iOS release in circulation.