Apple grows to 7.4% of worldwide PC market as Windows continues to cede share to the Mac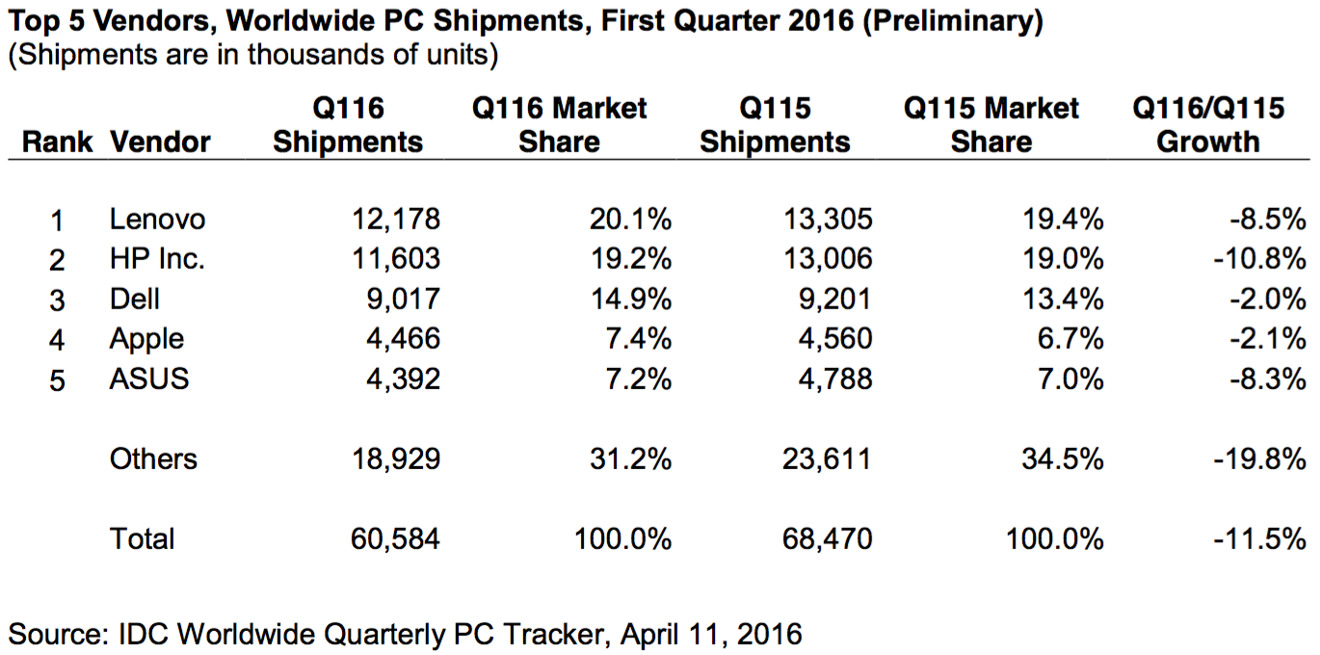 Apple continued to grow overall Mac marketshare during the March quarter as most leading Windows PC makers suffered significant setbacks, according to the latest research data from Gartner and IDC.
Apple's total share of the global PC market grew to 7.4 percent in the first quarter of calendar 2016, good for fourth place globally, according to IDC. That's up from 6.7 percent in the same period a year ago.
Apple's total sales actually fell 2.1 percent to just under 4.5 million. But the larger PC market dropped 11.5 percent, allowing the Mac to easily outpace the market.
Market leader Lenovo saw sales slide 8.5 percent year over year to 12.1 million units, according to IDC. The Chinese PC maker accounted for 20.1 percent of the market overall.
HP came in second with 19.2 percent share, off 10.8 percent, to 11.6 million units. And Dell took third with 9 million units, a 14.9 percent share and slide of 2 percent from 2015.
Meanwhile, according to Gartner, Apple's worldwide shipments advanced 1 percent year-over-year to 4.6 million during the quarter, giving it a 7.1 percent marketshare. HP by contrast saw units slide 9 percent, while Lenovo dropped 7.2 percent. Dell lost just 0.4 percent, but the only major PC maker to see growth was Asus, up 1.5 percent.

Lenovo did much better when solely analyzing the U.S. market, growing 14 percent, Gartner said. Dell also saw positive results, rising 3 percent to lead with a 26 percent marketshare. Both Apple and HP saw declines in their home country, with the former slipping marginally, but HP plummeting a whopping 17 percent.
IDC's domestic estimates had Apple in fourth with a 13 percent share, on sales of 1.77 million units in the U.S. American Apple sales were said to be up 5.6 percent, while overall PC sales in the U.S. were down 5.8 percent.
The computer industry has been on the decline for some time. In 2015, global shipments fell below 2008 levels — about 300 million. Even together, the industry shipped only 64.8 million units in the March 2016 quarter. Quarterly numbers haven't fallen below 65 million since 2007.