Motor Trend spotlights 'Apple Car' development in June cover story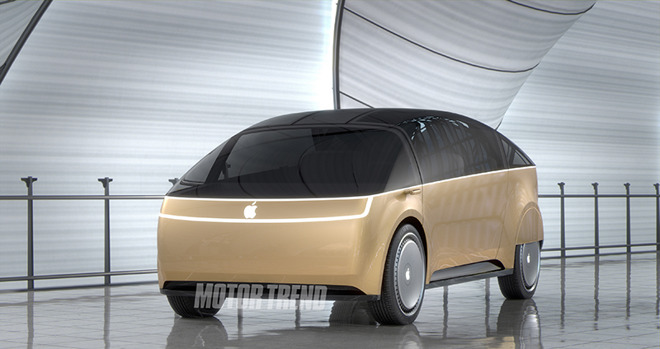 AppleInsider may earn an affiliate commission on purchases made through links on our site.
For its latest June issue, long-running automotive serial Motor Trend threw a spotlight on rumors and speculation surrounding Apple's shadowy "Project Titan." To go along with its print coverage, which includes a well-studied "Apple Car" concept rendering, the magazine invited a panel of experts to discuss the broader implications of Apple's efforts, and AppleInsider was there.
Motor Trend's report, penned by testing director Kim Reynolds, is in essence a think piece addressing the "what ifs" of Apple's automotive ambitions. In particular, the magazine focuses not only on how Apple could disrupt major players in the deeply entrenched heavy industry, but what the company should bring to the space.
Drawing on a variety of sources, including AppleInsider's exclusive coverage, the magazine rehashes the latest Apple Car rumors, speculation and scuttlebutt. Reynolds also asked industry insiders like former GM execs Larry Burns and Chris Borroni-Bird to weigh in on an Apple branded entry.
Burns, former GM vice president of research and development and head of strategic planning, believes Apple will likely push the envelope when it comes to design, not surprising considering the company's history. More interesting are thoughts on the inevitable rise of autonomous vehicles. Burns suggests Apple, or some other Silicon Valley tech firm, might one day develop a car capable of chauffeuring passengers in a ride sharing setup, while at the same time remaining attractive as a personal use vehicle.
Borroni-Bird, current Qualcomm VP of strategic development and former GM director of advanced technology vehicle concepts, elaborated on vehicle autonomy, saying software will likely be an increasingly important consideration for carmakers. The shift might also necessitate a rethink in the way we purchase cars.
In the future, cybersecurity threats and hardware obsolescence might prompt consumers to opt for auto leases rather than outright ownership, Borroni-Bird said. Just as smartphone hardware quickly becomes obsolete, so too will the underlying tech rolled out in future cars.
Combining what little is known about Apple Car with input from The ArtCenter College of Design, Motor Trend took a stab at rendering an aspirational Apple Car concept. The resulting mockup, inked by Garrett DeBry, is a minimalist mono-space shell riding on an electric drive chassis, a fitting representation of a personally owned vehicle with shared use ambitions.
Complementing the — intentionally — polarizing exterior is an interior that speaks to Apple's endless quest for the ultimate user experience. The star of the show is an augmented reality infotainment system powered that uses laser projection to overlay virtual display elements on both the dashboard and windshield. Siri integration not only handles navigation, but makes pitstop suggestions based on a driver's habits and schedule.
For example, Siri might tap into a user's Health app to recommend a healthy lunch, later highlighting the restaurant on the car's augmented reality windshield in real time.
The story describes use cases and overarching design themes in more detail, but the main thrust is Apple Car should be a self-sufficient standalone device that offers a fresh driving — and riding — experience.
As mentioned above, Motor Trend recently held a roundtable to discuss the feasibility of its concept. Along with Editor-in-Chief Ed Loh, who moderated the panel, the six-member panel included Reynolds, DeBry and Tim Huntzinger, an ArtCenter professor of graduate transportation systems who took part in the design process. CNET Roadshow head Tim Stevens and AppleInsider's Mikey Campbell offered commentary on the tech angle.