Apple to adopt AMD's new Polaris graphics chips in upcoming Macs - report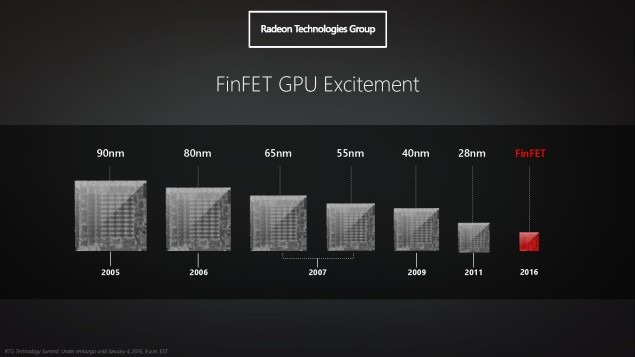 AMD's latest graphics chips, the Polaris 10 and 11, will make their way into Apple desktops and laptops shipping later this year, a report said on Tuesday.
Several sources have claimed that an OEM design win AMD secured last year was indeed for Apple, according to WCCFTech. Apple currently uses AMD graphics cards in the Mac Pro, 27-inch iMacs, and the highest-end configurations of the MacBook Pro. The Polaris 10 is believed to be best-suited to iMacs, while the Polaris 11 could make its way into MacBook Pros.
On a per-watt ratio, the new chips are expected to be about twice as fast as their predecessors, thanks largely to a smaller 14-nanometer FinFET architecture. For comparison, Samsung versions of the Apple A9 processor — used in the iPhone 6s and SE — are also based on a 14-nanometer process.
It's unknown when Apple might release updated iMacs and MacBook Pros, but these are likely to ship in time for the start of the U.S. school year this fall, traditionally one of Apple's best seasons for Mac sales. The company could conceivably introduce new models at WWDC in June, but Apple has veered away from launching new Macs at the annual event.