Twitter for Mac catches up with iOS & Web via Moments, polls & more
By Roger Fingas
Wednesday, May 04, 2016, 12:48 pm PT (03:48 pm ET)
Twitter released an important update to its official Mac client on Wednesday, finally bringing the software's features closer to par with iOS and the Web.




The primary addition in the update, 4.1.0, is support for Moments. These allow users to track an ongoing trend or event through curated tweets, including photos, GIFs, and videos. Moments originally launched for mobile last October, and it's not clear what might have caused a delay on Mac other than Twitter's mobile-heavy focus.

The Mac client now also supports another feature introduced last October, custom polls. New ones can be created for virtually any topic, and posted in just a few clicks. Each lasts 24 hours.

A new GIF search function, lastly, should make it easier to post looping animations in public tweets and in direct messages.

The Twitter Mac client is a free download from the Mac App Store. The latest version requires OS X 10.10 or later.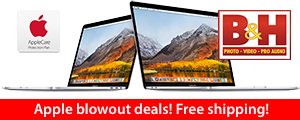 2018 13" Touch Bars
Price
Save
2.3GHz/8GB/256GB (Gray)
$1,649.99+
$150
2.3GHz/8GB/512GB (Silver)
$1,849.00+
$150
2.3GHz/16GB/256GB (Gray)
$1,949.00+
$50
2.7GHz/16GB/512GB
$2,449.00+
$50
2.7GHz/16GB/1TB
$2,849.00+
$50
2018 15" MacBook Pros
Price
Save
2.2GHz/16/256GB/555X
$2,099.00+
$300
2.6GHz/16/512GB/560X
$2,399.00+
$400
2.9GHz/16/1TB/560X
$3,199.00+
$300
2.9GHz/32/2TB/560X (Gray)
$3,999.00+
$700
tr class="model">
2.9GHz/32/4TB/560X (Gray)
$5,999.00+
$700
Click here for dozens more configurations
+ Free shipping within the contiguous U.S.
Lowest Prices Anywhere!

13" MacBook Pros
Price
You Save
3.1GHz/8GB/256GB Gray
$1,679.00
$120.00
3.1GHz/8GB/256GB Silver
$1,704.00*
$95.00
3.1GHz/8GB/512GB Gray
$1,849.00*
$150.00
3.1GHz/16/512GB Gray
$2,099.00
$100.00
15" MacBook Pro
Price
You Save
2.8GHz/16/256/555 Silver
$2,199.00*
$200.00
2.8GHz/16/256/560 Gray
$2,299.00
$200.00
2.9GHz/16/512/560 Gray
$2,599.00
$200.00
2.9GHz/16/1TB/560 Gray
$2,999.00
$200.00
3.1GHz/16/512/560 Gray
$2,799.00
$200.00
3.1GHz/16/2TB/560 Gray
$3,899.00
$300.00

*

price with Promo Code:

APINSIDER

prices.appleinsider.com for more configurations