AirPort Extreme, Time Capsule pulled from U.S. Apple Stores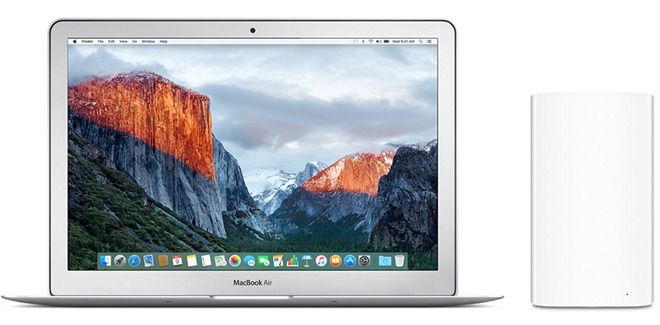 Although the products are still available online, Apple no longer appears to be selling the AirPort Extreme or Time Capsule in its U.S. retail stores, according to a Friday report and checks by AppleInsider.
Shoppers are finding the AirPort Extreme out of stock at various Apple Stores around the U.S., MacRumors noted. One person who visited an outlet in Beverly Hills was told that Apple has recalled units from every location. A support representative contacted by MacRumors echoed this, claiming that the Time Capsule has been pulled as well.
Apple has also reportedly removed Personal Pickup as an option for online orders. AppleInsider can confirm that the option has disappeared from cities as diverse as Austin, Pittsburgh, San Francisco, and New York City.
Oddly, the products are still said to be available in many stores in Australia, Canada, and Europe, though Apple is sometimes slow to propagate changes outside the United States.
This discrepancy could lend credence to the idea that these stockouts are related compliance with a June 2 deadline set by the FCC. This is the date at which routers approved under an older set of rules can't be sold unless they meet newer security regulations which have been phased in since 2014.
Apple could also be planning to refresh both devices at next month's Worldwide Developers Conference. The products have sat unchanged since 2013, even as Wi-Fi and storage technologies have improved. The AirPort Express — still on sale — is yet more outdated, lacking 802.11ac support.
Another possibility is that Apple will simply discontinue the products entirely, although that would leave the company without a first-party option for connecting Macs and iOS devices to Wi-Fi.