Apple prepares San Francisco venues for WWDC 2016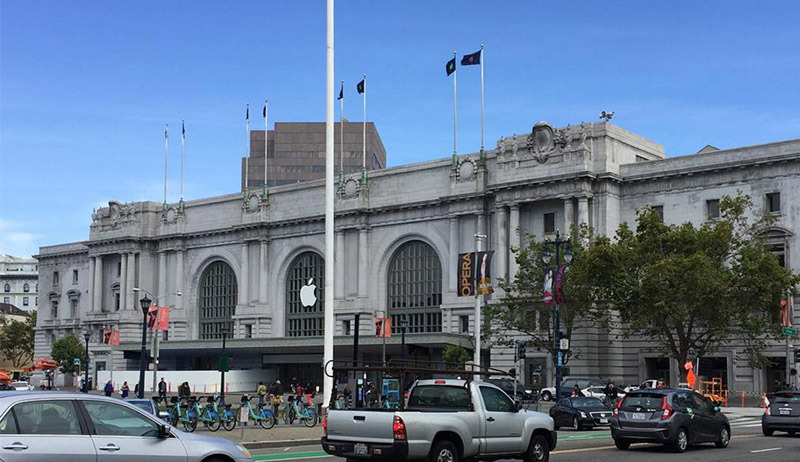 As it does every year, Apple on Friday began to decorate the two main San Francisco venues that will host this year's Worldwide Developers Conference, installing banners, flags, utility equipment and more.
San Francisco locals and visitors in town for WWDC 2016 are posting photos of Apple's building preparations to social media outlets like Instagram and Twitter, some of which show exterior work at Bill Graham Civic Auditorium is nearly complete. Apple will kick off this year's event at the 7,000-seat auditorium on Monday.
The building is dressed with flags and signage bearing Apple logos — in a rainbow of colors to match WWDC 2016's theme — including a massive 15-foot version borrowed from last year's iPhone event. Photos of what appears to be a large, portable commercial HVAC apparatus positioned outside Bill Graham, seen below, are also circulating around the web. It seems Apple is expecting a big turnout.
Following this past week's work at Bill Graham Auditorium, contractors started preparing the nearby Moscone West building on Friday. In years past, the site was WWDC central, playing host to Apple's keynote presentation, developer sessions and closing bash. It last saw a WWDC keynote in 2014.
Like last year's conference, Moscone West will act as the hub of operations for developers. There, attendees can take part in informational sessions and hands-on labs run by Apple engineers, consultations with key Apple personnel, special guest speaker presentations and get togethers with colleagues.
WWDC 2016 kicks off on Monday, June 13 at 10 a.m. Pacific, 1 p.m. Eastern, and concludes with a free concert for guests on Thursday, June 16. Apple is expected to detail the future of its major software platforms — iOS, OS X, watchOS and tvOS — throughout the conference, while rumors suggest the company might take the opportunity to announce new MacBook hardware and Apple Pay for websites.
AppleInsider will be on the scene with live coverage of events, announcements and goings on starting with Monday's keynote.