MacOS Sierra code hints at MacBook Pro touch bar, Touch ID integration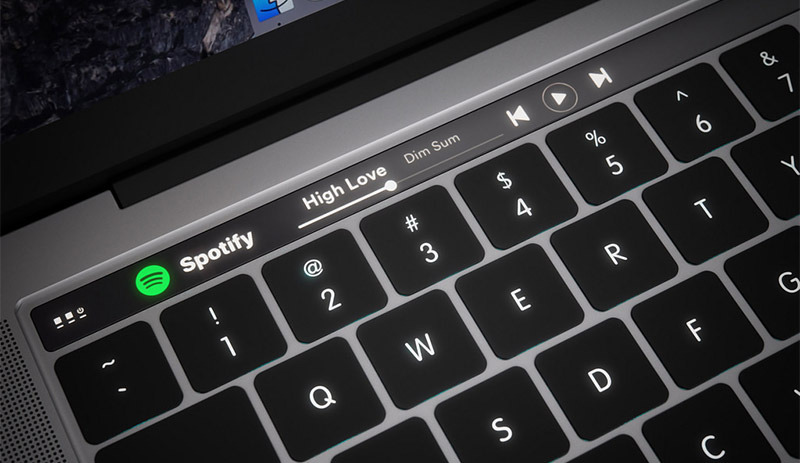 A number of system control files discovered in Apple's latest macOS Sierra reference options for a potentially customizable LED interface, adding fuel to recent rumors of an OLED touch bar-equipped MacBook Pro.
Falling just shy of confirming the latest MacBook Pro rumor, macOS Sierra APIs spotted by French language publication Mac Generation point to human interface device (HID) usage resources suggest incorporation of a secondary, potentially customizable, display.
For example, the Sierra beta released Monday includes reference to "kHIDUsage_LED_NumLock" and "kHIDUsage_LED_CapsLock" APIs seemingly related to a keyboard status graphic, a logical asset for inclusion if Apple were to integrate a standalone status bar. Other resources control display of battery life indicators, printer status, media player functions, media transport, system status messages, audio controls and generic alerts, among other assets.
A closer look at Apple's developer document covering "IOKit Changes" reveals identical additions, as well as support for biometric devices listed under a subheading containing various keyboard operations.
Again, while not a direct reference to Touch ID, the APIs allow for tap tracking on a biometric key. Interestingly, support for key presses is not included at this time, suggesting the biometric device is a fixed structure. By comparison, the Touch ID home button as implemented in iOS differentiates tap and press events, for example a double tap triggers Reachability, while a long press invokes Siri.
Apple is rumored to deliver a dramatically redesigned MacBook Pro model later this year. In a note to investors last month, analyst Ming-Chi Kuo said the forthcoming laptop will nix the top row of function keys in favor of a single OLED touch panel, potentially with integrated Touch ID fingerprint authentication technology.