Apple invites developers to Search Ads beta ahead of iOS 10 launch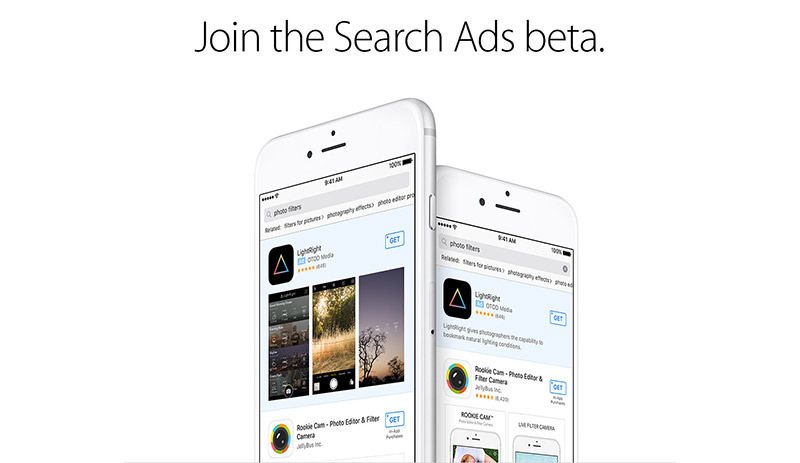 In preparation of the iOS 10 launch this fall, Apple on Friday sent out emails inviting developers to take part in a beta testing program for Search Ads, a forthcoming iOS App Store feature designed to boost app discoverability.
As noted in today's email blast, developers with apps currently up for offer on the iOS App Store can opt in to the Search Ads beta for free, no budget or bidding required.
While developers will not have access to search analytics or the Search Ads Campaign Management and Reporting system, they might receive downloads as part of the trial, Apple said. uring the beta period, which runs through the summer, opt-in testers will have their apps served up to Apple Developer Program and Apple Beta Software Program members taking part in the iOS 10 beta.
For Apple, the Search Ads beta presents an opportunity to work out kinks and see which ad formats work best prior to public launch this fall. The company is still optimizing the system in hopes of offering a transparent and safe user experience for its customers.
Search Ads was officially announced earlier this month in the lead-up to Apple's Worldwide Developers Conference. Allowing paid promotions on a digital storefront is a first for Apple, which has for years restricted promoted content to selections curated by its own App Store team.
As its name implies, Search Ads surfaces apps by returning relevant results to App Store search queries. Apple says the system is designed to be safe, transparent and minimally intrusive to end users.
For example, promoted content will be clearly marked as an "Ad," and users can expect at most one suggestion per query. Further, unlike other platforms, Apple does not harvest user data, generate customer profiles, share data with advertisers or market to users under 13 years old.
Developers can start bidding on ad placements once the beta ends. Pricing is based on a Cost Per Tap model with no minimum ad spend. Along with a default search match function that automatically pairs ads with relevant user searches, advertisers have access to advanced content management and analytics tools. Apple has created an Attribution API for detailed, yet private, download insights and plans to offer additional APIs for campaign creation, management and reporting.
Search Ads will be limited to the U.S. App Store when it debuts this fall as part of iOS 10.