Apple customers to receive $400M iBooks settlement payments on Tuesday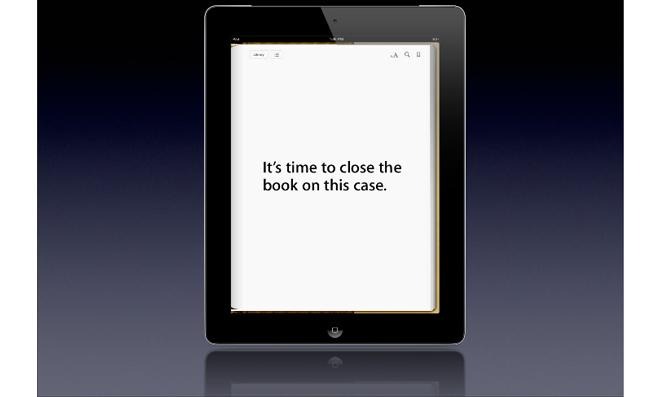 Customers impacted by Apple's alleged iBooks price fixing scheme will this week receive settlement payments in the form of store credit or checks for up to $6.83 per e-book, the law firm representing plaintiffs in the case announced on Monday.
Hagens Berman issued a press release notifying e-book purchasers of plans to dole out Apple's $400 million settlement fund starting Tuesday.
In compliance with the agreed upon terms, consumers are to receive payouts valued at twice their losses, which translates to $1.57 per most e-books and up to $6.93 for every New York Times bestseller. Titles from Hachette Book Group, HarperCollins Publishers, Macmillan (Holtzbrinck Publishers), Penguin Group and Simon & Schuster purchased between April 1, 2010 and May 21, 2012 qualify for the program.
As previously noted, customers who bought digital books from Amazon, Barnes & Noble, Kobo and Apple are eligible for payouts, which should arrive automatically in their respective store accounts. Depending on prior survey responses, consumers might alternatively receive checks in the mail.
Apple was first hit by a U.S. government antitrust lawsuit over the company's "agency model" e-book price structure. Investigation showed marketing on a "most favored nations" basis restricted content owners to sell their wares to another retailer for a lower price, a system contrasted by the "wholesale model" preferred by industry leader Amazon. Unlike the agency model, Amazon's strategy allows retailers to buy content in bulk and set unit pricing at or below cost.
After being found guilty of colluding with publishers to artificially raise the price of e-books sold through the iBookstore, and a failed appeal to the Supreme Court, Apple agreed to settle a related class-action lawsuit seeking redress over questionable business practices. Apple, lawyers representing general consumers and state attorneys general representing citizens in 33 U.S. states and territories agreed to the terms.
The coming distribution round will be the second in the case.