Apple hands out rainbow Apple Watch bands to commemorate LGBT Pride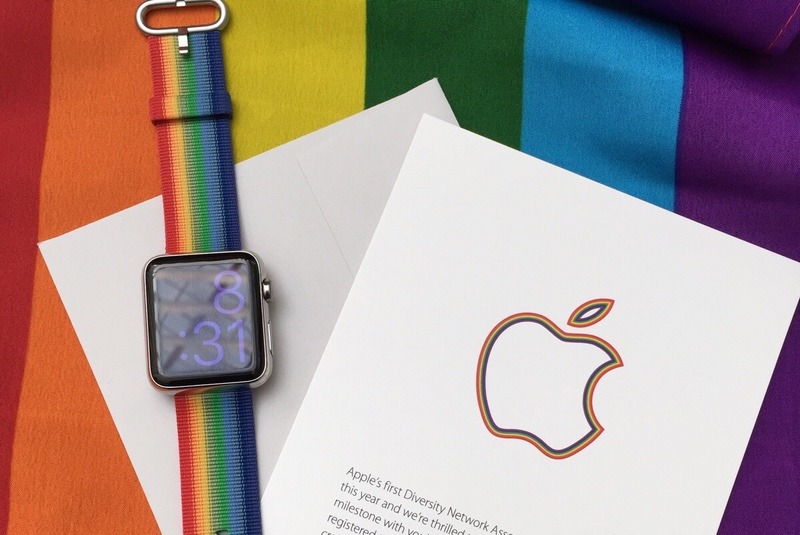 In celebration of this year's LGBTQ Pride festivities, and the 30th anniversary of its own corporate Pride association, Apple this weekend passed out special rainbow colored Apple Watch bands to employees and published a selection of related iTunes content.
As seen in the photo above, posted to Reddit on Sunday, Apple produced a small quantity of woven nylon bands done up in Pride regulation rainbow to recognize 30 years of Apple Pride, the company's first Diversity Network Association. Employees who registered for a Pride event, such as the San Francisco parade, received a copy.
Apple once again sent a delegation to this year's Bay Area demonstration, where CEO Tim Cook tweeted out a picture of his contingent wearing company shirts and waving rainbow flags.
After years of marching as individuals, Apple workers received official backing from the company in 2014, support that continues on through to today. In 2015, for example, Apple supplied custom printed T-shirts, flags and banners to parade participants, and later produced a video showcasing its efforts.
Like past years, Apple also activated a dedicated Pride section in the iTunes Store on Sunday. The curated category features music, movies, TV shows, e-books, podcasts and other media honoring individuals who fought for equality "before, during and after the 1969 Stonewall riots."
Just this week President Barack Obama named New York's historic Stonewall Inn as America's first national monument honoring the LGBT movement. In 1969, the Greenwich Village bar was the site of a demonstration later viewed as a flashpoint for modern gay rights.