Apple's video of 2014 San Francisco Pride Parade celebrates company diversity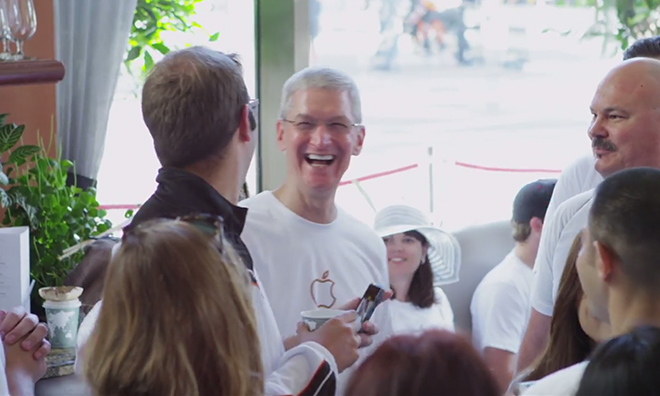 Apple on Monday published a video showing its side of last week's Lesbian, Gay Bisexual and Transgender Pride Parade in San Francisco, where the company showed up in force to celebrate the day and hand out vouchers for free iTunes songs.
Set to Coldplay's "A Sky Full of Stars," the short film is done in the style of Apple's typical store opening featurettes, which let the images do the talking instead of overdubbed narration.
The video starts out by showing preparations for the Pride Parade, including the handing out of rainbow-colored flags for the march and special edition T-shirts emblazoned with the word "Pride" just below a similarly colored Apple logo.
Apple's YouTube description:
On June 29, thousands of Apple employees and their families marched in the San Francisco Pride Parade. They came from around the world — from cities as far as Munich, Paris, and Hong Kong — to celebrate Apple's unwavering commitment to equality and diversity. Because we believe that inclusion inspires innovation.
Apple CEO Tim Cook can be spotted taking a selfie with an employee during what looks to be a pre-event refreshment gathering catered by Caffe Macs personnel. Lisa Jackson, the company's head of environmental initiatives, was also on hand for the parade, though she was not featured in the video.
Along with Cook, a few Apple products make appearances as well, with the iPad Air being used for logistics operations and numerous iPhones in the hands of employees. The remainder of the video shows different views of Apple's significant 5,000-person presence in the procession, and wraps up with the tagline "Inclusion inspires innovation." Cook tweeted out the same quote on the day of the parade.
This was the first year Apple officially sanctioned a group to march in the San Francisco parade, and to celebrate the company handed out free iTunes song cards to bystanders along the route.